FERC Chairman Dubs .22 Rifles Terrorist Weapons
Posted By kurt_nimmo On November 26, 2012 @ 4:09 pm In Featured Stories,Tile | Comments Disabled
Kurt Nimmo
Prison Planet.com
November 24, 2012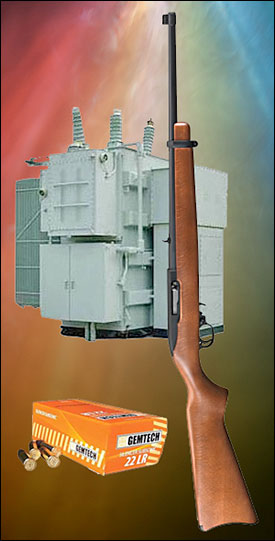 The chairman of the U.S. Federal Energy Regulatory Commission has provided aspiring terrorists with an idea – use a .22 rifle to take out power transformers.
"There are ways that a very few number of actors with very rudimentary equipment could take down large portions of our grid," FERC Chairman Jon Wellinghoff [1] said at a Bloomberg Government breakfast in Washington last Friday. "I don't think we have the level of physical security we need."
A would-be al-Qaeda miscreant "could get 200 yards away with a .22 rifle" could take down the power grid, Wellinghoff warned.
Mr. Wellington did not provide an explanation why — over the last decade — the terrorist group has not targeted the power grid in the United States.
Bloomberg Government describes itself as a "single, comprehensive web-based information service for professionals who interact with or are impacted by the Federal Government."
The notorious gun-grabber, New York mayor Michael Bloomberg, owns the online subscription-based service.
"Wellinghoff has managed to inject an anti-rifle scare into the energy debate that Bloomberg News, in thrall to its billionaire anti-gun zealot master, has the means to disseminate to the general public to manipulate and gin up the fear needed in order for planned 'solutions' to be introduced," writes David Codrea [2].
---
Article printed from Prison Planet.com: http://www.prisonplanet.com
URL to article: http://www.prisonplanet.com/ferc-chairman-dubs-22-rifles-terrorist-weapons.html
URLs in this post:
[1] Jon Wellinghoff: http://www.sfgate.com/business/bloomberg/article/Rifle-Toting-Terrorists-Called-Major-Threat-to-4062094.php
[2] David Codrea: http://www.examiner.com/article/obama-s-energy-chairman-paints-rifles-a-terrorist-threat-for-bloomberg-group
[3] DHS buys 7000 full-auto assault rifles, calls them 'personal defense weapons': http://www.prisonplanet.com/dhs-buys-7000-full-auto-assault-rifles-calls-them-personal-defense-weapons.html
[4] IRS Agents Train With AR-15 Rifles: http://www.prisonplanet.com/irs-agents-train-with-ar-15-rifles.html
[5] Google chairman says online piracy bill would 'criminalize' the Internet: http://www.prisonplanet.com/google-chairman-says-online-piracy-bill-would-criminalize-the-internet.html
[6] FBI-Stung Terrorist Targeted Dallas Office Tower where CIA Agent/County Republican Party Chairman Works, CIA Cocaine and 9/11 Ties: http://www.prisonplanet.com/fbi-stung-terrorist-targeted-dallas-office-tower-where-cia-agentcounty-republican-party-chairman-works-cia-cocaine-and-911-ties.html
[7] Chairman of Goldman Sachs International Was – Until Last Year – Also Chairman of BP: http://www.prisonplanet.com/chairman-of-goldman-sachs-international-was-until-last-year-also-chairman-of-bp.html
Click here to print.