Florida Man Arrested for Recording Police in Public
Posted By admin On November 2, 2011 @ 9:19 am In Featured Stories,Tile | Comments Disabled
Kurt Nimmo
Infowars.com
November 2, 2011
A man from Pompano Beach, Florida, was arrested and charged with illegal interception of communication [1] on Tuesday when he recorded a conversation with Palm Beach County deputies.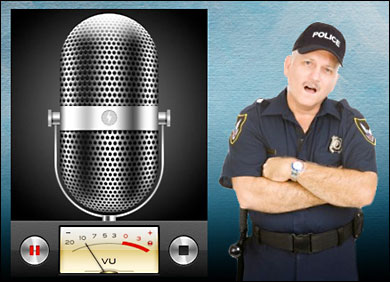 Courts have rule that it is legal to record police under the First Amendment.
Carl Paul had questioned the traffic stop and asked police for their names. He was arrested after police noticed he was recording the conversation with his iPhone. Paul said he was "documenting what was happening," according to an affidavit.
Paul was told he did not have permission to record the officers, a violation of state law in Florida.
Despite court rulings stating it is legal under the Fist Amendment to record police, it is a crime under the two-party consent law in Florida to intercept or record a "wire, oral, or electronic communication" in Florida, unless all parties to the communication consent.
Florida law makes an exception for in-person communications when the parties do not have a reasonable expectation of privacy in the conversation, such as when they are engaged in conversation in a public place where they might reasonably be overheard, according to the Citizen Law Project [2].
In September, a judge in Illinois threw out a case against Michael Allison [3] for recording a conservation he had with police. The 41-year old mechanic faced 75 years in prison, tantamount to a life sentence. Circuit Court Judge David Frankland [4] cited First Amendment protections when he wrote in his opinion that Allison had a right to record police officers and court employees.
Earlier this year the First Circuit Court of Appeals [5] issued a decision following a number of incidents where individuals have videotaped police officers and were arrested.
"The filming of government officials engaged in their duties in a public place, including police officers performing their responsibilities, fits comfortably within these principles [of protected First Amendment activity]," the court ruled. "Gathering information about government officials in a form that can readily be disseminated to others serves a cardinal First Amendment interest in protecting and promoting the free discussion of governmental affairs."
---
Article printed from Prison Planet.com: http://www.prisonplanet.com
URL to article: http://www.prisonplanet.com/florida-man-arrested-for-recording-police-in-public.html
URLs in this post:
[1] illegal interception of communication: http://www.sun-sentinel.com/news/palm-beach/pb-recording-leads-to-arrest-20111101,0,7158455.story
[2] Citizen Law Project: http://www.citmedialaw.org/legal-guide/florida-recording-law
[3] Michael Allison: http://www.infowars.com/judge-declares-case-against-man-for-recording-police-unconstitutional/
[4] David Frankland: http://www.rcfp.org/newsitems/index.php?i=12153
[5] First Circuit Court of Appeals: http://www.infowars.com/appeals-court-rules-it-is-not-illegal-to-film-police/
[6] Man Faces Life In Jail For Recording Police: http://www.prisonplanet.com/man-faces-life-in-jail-for-recording-police.html
[7] Charges Dropped Against Man Who Faced Life In Jail For Recording Cops: http://www.prisonplanet.com/charges-dropped-against-man-who-faced-life-in-jail-for-recording-cops.html
[8] Report On Man Who Faces Life Sentence for Recording Cops: http://www.prisonplanet.com/report-on-man-who-faces-life-sentence-for-recording-cops.html
[9] Cops Try To Hit Illinois Man With 15 Year Jail Sentence For Recording Traffic Stop: http://www.prisonplanet.com/cops-try-to-hit-illinois-man-with-15-year-jail-sentence-for-recording-traffic-stop.html
[10] Illinois Citizens Still Being Arrested For Filming Cops Despite Court Ruling Which Blocked Unconstitutional Law: http://www.prisonplanet.com/illinois-citizens-still-being-arrested-for-filming-cops-despite-court-ruling-which-blocked-unconstitutional-law.html
Click here to print.