Illinois Democrats Lose Bid to Pass Firearms Confiscation Bill
Posted By admin On January 3, 2013 @ 8:11 pm In 1,Featured Stories,Tile | Comments Disabled
Kurt Nimmo
Prison Planet.com
January 3, 2012

Democrats in the Illinois Senate have failed to gain enough support for legislation that would have outlawed 50 percent of long guns on the market in the state and would have confiscated weapons owned by citizens.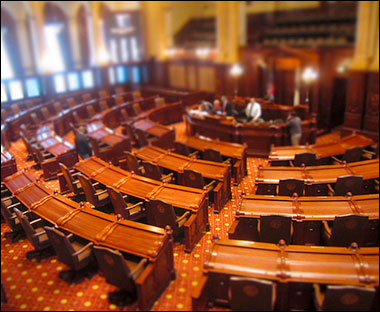 Photo: Daniel X. O'Neil.
On Wednesday, we reported that Illinois Senate President John Cullerton [1] planned to introduce a draconian bill that would have effectively banned all modern firearms, criminalized their owners, and subjected their guns to confiscation by the Illinois State Police.
"Based on what we know about Cullerton's bill, firearms that would be banned include all semiautomatic rifles, pistols, and shotguns," the Illinois State Rifle Association reported. "Pump action shotguns would be banned as well. This would be a very comprehensive ban that would include not only so-called 'assault weapons' but also such classics as M1 Garands and 1911-based pistols. There would be no exemptions and no grandfathering. You would have a very short window to turn in your guns to the State Police to avoid prosecution."
In addition to outlawing a large number of firearms, the legislation would have targeted shooting ranges in the state.
Following the failure today, Democrats pledged to reintroduce legislation outlawing the Second Amendment. "We will take some time to work on these important issues to advance them in the near future," Cullerton's press secretary, Rikeesha Phelon [2], told reporters.
Illinois governor Pat Quinn has indicated he will push for outlawing semiautomatic weapons this Spring.
---
Article printed from Prison Planet.com: http://www.prisonplanet.com
URL to article: http://www.prisonplanet.com/illinois-democrats-lose-bid-to-pass-firearms-confiscation-bill.html
URLs in this post:
[1] John Cullerton: http://www.infowars.com/illinois-moves-to-outlaw-modern-firearms-and-criminalize-owners/
[2] Rikeesha Phelon: http://qctimes.com/news/state-and-regional/illinois/democrats-pull-plug-on-gun-ammo-bans/article_32f17fc4-55db-11e2-a7a7-001a4bcf887a.html
[3] Illinois Moves to Outlaw Modern Firearms and Criminalize Owners: http://www.prisonplanet.com/illinois-moves-to-outlaw-modern-firearms-and-criminalize-owners.html
[4] Another Democrat Calls for Gun Confiscation: http://www.prisonplanet.com/another-democrat-calls-for-gun-confiscation.html
[5] Gun Ban Bill Advances to Senate Floor: http://www.prisonplanet.com/draconian-illinois-gun-ban-advances-to-senate-floor.html
[6] Gun Ranges to be Regulated Under Draconian Bill: http://www.prisonplanet.com/gun-ranges-to-be-regulated-under-draconian-bill.html
[7] BREAKING ALERT – Next Vote on Illinois Semi-Auto Ban Today Sunday: http://www.prisonplanet.com/breaking-alert-next-vote-on-illinois-semi-auto-ban-today-sunday.html
Click here to print.