Israel Threatens Syria Intervention Over Chemical Weapons
Posted By kurt_nimmo On October 17, 2012 @ 6:45 am In Featured Stories,Tile | Comments Disabled
Kurt Nimmo
Prison Planet.com
October 17, 2012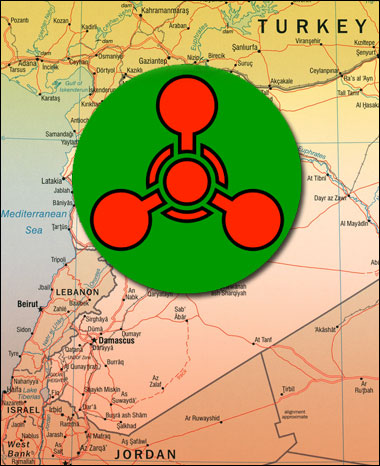 It is reminiscent of the excuse given to invade Iraq in 2003 – Israel will consider the "military option" in Syria to make sure its chemical weapons do not "reach the hands of extremists," according to the Times of Israel [1].
"Israel will do everything it takes to ensure Syria's chemical weapons do not fall into the hands of terrorist organizations – and if such a situation arises, then Israel will weigh a military option," Netanyahu told a group of European ambassadors in Jerusalem. He said Hezbollah has aided Syrian leader Bashar al-Assad.
In August, rebels supported by the CIA and MI6 and funded by Saudi Arabia and Qatar said they had seized [2] Syrian weapons "that were converted to carry non-conventional warheads and which can be equipped with chemical or biological warheads."
The Supreme Military Council of the Syrian rebels called on Arab countries and the international community to immediately intervene in order to protect the lives of the Syrian people "before the regime moves to a new level of crimes, which will have tragic consequences for the entire region."
Syria admits possessing chemical weapons and al-Assad has said he will only use them if his country is invaded [3]. "All of the stocks of these weapons that the Syrian Arab Republic posses are monitored and guarded by the Syrian army," Foreign Ministry spokesman Jihad Makdissi [4] said in July. "These weapons are meant to be used only and strictly in the event of external aggression against the Syrian Arab Republic."
Despite al-Assad's admission, Syrian Foreign Minister Walid Moallem [5] said the United States is using chemical weapons as an excuse to invade the country.
"The claim that we have chemical weapons is an American invention aimed at pressuring the regime in Damascus. The Americans said the same about Iraq just to have an excuse to invade its territory," Moallem said in an interview with Syrian media on the sidelines of the UN General Assembly in New York.
Syria's fears were heightened when the United States sent a specialized military team to Jordan [6] under the pretext of monitoring its chemical weapons. The Italian News Agency [7] reported on October 14 that British troops had joined the Americans in Jordan and French troops may also be operating on the Syrian border "on concerns over Syria's chemical weapons arsenal."
United Nations warning about Syrian chemical weapons.
NATO boss Anders Fogh Rasmussen [8] said on October 1 that Syria's chemical weapon stockpiles are a "great concern" and NATO was monitoring the situation closely.
On Wednesday, while speaking at a NATO conference of defense ministers in Brussels, Defense Secretary Leon Panetta said the U.S. is working with Jordan to monitor chemical and biological weapons sites in Syria, according to the Associated Press.
"As we've said before, we have been planning for various contingencies, both unilaterally and with our regional partners," Pentagon press secretary George Little [9] said in a written statement delivered from Paris. "There are various scenarios in which the Assad regime's reprehensible actions could affect our partners in the region. For this reason and many others, we are always working on our contingency planning, for which we consult with our friends."
Netanyahu's comments signal that Israel may get the ball rolling on a Syrian intervention under the guise of protecting Israel from a chemical attack.
"The growing fear is that extremist fighters and other groups may get their hands on Syria's vast chemical and biological weapons stockpiles if Assad falls. The threat of the weaponry falling into rebel hands has grown as the uprising has intensified in recent months," the Times of Israel reports.
Israel has threatened to attack [10] Syria's alleged chemical weapons in the past.
---
Article printed from Prison Planet.com: http://www.prisonplanet.com
URL to article: http://www.prisonplanet.com/israel-threatens-syria-intervention-over-chemical-weapons.html
URLs in this post:
[1] Times of Israel: http://www.timesofisrael.com/israel-might-act-militarily-against-syria-to-prevent-spread-of-chemical-weapons-pm-says/
[2] they had seized: http://www.israelnationalnews.com/News/News.aspx/159391#.UH63dRieZTY
[3] if his country is invaded: http://www.thenational.ae/news/world/middle-east/assad-regime-admits-bio-weapons-stockpile
[4] Jihad Makdissi: http://online.wsj.com/article/SB10000872396390443437504577544632378473006.html
[5] Walid Moallem: http://www.ynetnews.com/articles/0,7340,L-4287267,00.html
[6] specialized military team to Jordan: http://www.nytimes.com/2012/10/10/world/middleeast/us-military-sent-to-jordan-on-syria-crisis.html?_r=0
[7] Italian News Agency: http://www.globalresearch.ca/british-troops-joined-us-forces-on-the-jordan-syria-border/5308154
[8] Anders Fogh Rasmussen: http://www.dailystar.com.lb/News/Middle-East/2012/Oct-01/189787-syria-chemical-weapons-great-concern-nato.ashx#axzz29YwXSV4j
[9] George Little: http://www.lasvegassun.com/news/2012/oct/17/us-us-syria/
[10] threatened to attack: http://www.thenational.ae/news/world/middle-east/israel-warns-on-syrias-chemical-weapons
[11] 'Syria moves chemical weapons, won't use them on Israel': http://www.prisonplanet.com/syria-moves-chemical-weapons-wont-use-them-on-israel.html
[12] Bashar al-Assad, Syria, and the truth about chemical weapons: http://www.prisonplanet.com/bashar-al-assad-syria-and-the-truth-about-chemical-weapons.html
[13] REPORT: Russian forces take Syrian chemical, biological weapons under control: http://www.prisonplanet.com/report-russian-forces-take-syrian-chemical-biological-weapons-under-control.html
[14] Syrian rebels aim to use chemical weapons, blame Damascus – report: http://www.prisonplanet.com/syrian-rebels-aim-to-use-chemical-weapons-blame-damascus-%e2%80%93-report.html
[15] Israel vows Syria strike at any sign of chemical arms transfer: http://www.prisonplanet.com/israel-vows-syria-strike-at-any-sign-of-chemical-arms-transfer.html
Click here to print.