Major opinion shifts, in the US and Congress, on NSA surveillance and privacy
Posted By admin On July 29, 2013 @ 12:27 pm In Commentary | Comments Disabled
Glenn Greenwald
London Guardian [1]
July 29, 2013
Numerous polls taken since our reporting on previously secret NSA [2] activities first began have strongly suggested [3] major public opinion shifts in how NSA surveillance and privacy are viewed [4]. But a new comprehensive poll [5] released over the weekend weekend by Pew Research provides the most compelling evidence yet of how stark the shift is.
Among other things, Pew finds that "a majority of Americans – 56% – say that federal courts fail to provide adequate limits on the telephone and internet data the government is collecting as part of its anti-terrorism efforts." And "an even larger percentage (70%) believes that the government uses this data for purposes other than investigating terrorism." Moreover, "63% think the government is also gathering information about the content of communications." That demonstrates a decisive rejection of the US government's three primary defenses of its secret programs: there is adequate oversight; we're not listening to the content of communication; and the spying is only used to Keep You Safe™.
But the most striking finding is this one:
"Overall, 47% say their greater concern about government anti-terrorism policies is that they have gone too far in restricting the average person's civil liberties, while 35% say they are more concerned that policies have not gone far enough to protect the country. This is the first time in Pew Research polling that more have expressed concern over civil liberties than protection from terrorism since the question was first asked in 2004."
For anyone who spent the post-9/11 years defending core liberties against assaults relentlessly perpetrated in the name of terrorism, polling data like that is nothing short of shocking. This Pew visual underscores what a radical shift has occurred from these recent NSA disclosures: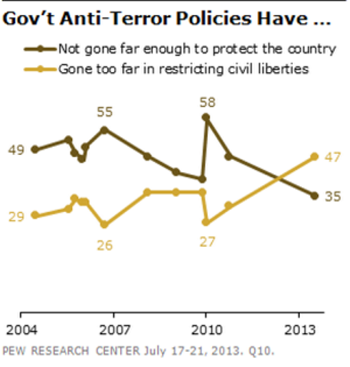 ---
Article printed from Prison Planet.com: http://www.prisonplanet.com
URL to article: http://www.prisonplanet.com/major-opinion-shifts-in-the-us-and-congress-on-nsa-surveillance-and-privacy.html
URLs in this post:
[1] London Guardian: http://www.guardian.co.uk/commentisfree/2013/jul/29/poll-nsa-surveillance-privacy-pew
[2] NSA: http://www.guardian.co.uk/world/nsa
[3] strongly suggested: http://www.bloomberg.com/news/2013-07-10/snowden-seen-as-whistlebloweer-by-majority-in-new-poll.html
[4] how NSA surveillance and privacy are viewed: http://news.yahoo.com/polls-show-americans-still-bugged-nsa-surveillance-revelations-141607421.html
[5] new comprehensive poll: http://www.people-press.org/2013/07/26/few-see-adequate-limits-on-nsa-surveillance-program/
[6] EPIC to Congress: Protect Privacy Against Drone Surveillance: http://www.prisonplanet.com/epic-to-congress-protect-privacy-against-drone-surveillance.html
[7] Michael Hayden, Former NSA Chief: After A Major Attack, U.S. Likely To Seize More Surveillance Powers: http://www.prisonplanet.com/michael-hayden-former-nsa-chief-after-a-major-attack-u-s-likely-to-seize-more-surveillance-powers.html
[8] Glenn Greenwald To Testify Before Congress On NSA Surveillance: http://www.prisonplanet.com/glenn-greenwald-to-testify-before-congress-on-nsa-surveillance.html
[9] Congress Finally Decides NSA Surveillance Violates the Law: http://www.prisonplanet.com/congress-finally-decides-nsa-surveillance-violates-the-law.html
[10] Rights Group Urges Congress To Scrap Privacy Busting Internet Bill: http://www.prisonplanet.com/rights-group-urges-congress-to-scrap-privacy-busting-internet-bill.html
Click here to print.