Monsanto Video Revolt: Massive Grassroots Campaign Launched Against GMOs, Monsanto
Posted By admin On June 14, 2013 @ 4:18 am In Sci Tech | Comments Disabled
Anthony Gucciardi
Prison Planet.com
June 14, 2013

It is with great excitement that I am able to announce a massive new grassroots campaign against Monsanto that kicks the intellectual war against GMOs into warp speed. Following the great success of campaigns like March Against Monsanto, the new Monsanto Video Revolt brings the online revolution against Monsanto to life by enabling powerful activism on and before July 24th, 2013.
The Monsanto Video Revolt campaign acts as a proverbial stake into the barely-beating heart of Monsanto, and the premise is very simple: on July 24th, we will blast all of the major video hosting websites like Youtube, Vimeo, and NaturalNews.tv (where your content won't get censored) with videos spreading the word about Monsanto and GMOs at large. Whether it's a smart phone video or camcorder recording, it doesn't matter — simply tell Monsanto and the world why we are kicking Big Biotech out of the world's food supply.
Anyone can participate in the Monsanto Video Revolt across the globe, and the mainstream media will be forced to cover the event whether they like it or not. I'm extremely happy to be teaming up with Mike Adams of NaturalNews [1] and Dr. Edward F. Group III of Global Healing Center [2] to be launching this campaign, and I can only imagine the success we will achieve with great people like Mike and Ed distributing the news to their millions of readers around the world.
Unlike a physical protest, where the media can choose to censor and ignore (which they certainly did choose to do, as I was the only one with a camera team at the march in Philadelphia), massive online activism will generate colossal amounts of media by driving trends and utilizing major sharing websites to send a virtual tidal wave of reality across the net.
Be A Part of the Real Food Revolution – Monsanto Video Revolt July 24th
On July 24th, we will be blasting out millions of videos on Monsanto and GMOs, but you don't have to wait. You can start posting videos and other media right now, and you are encouraged to post them on our Facebook [3] page, send them in to us, and just share them in general. Overall, the initiative is very simple, and it comes down to 3 simple steps:
- Step 1: Create a video of any length exposing Monsanto and GMOs, whether it's from a webcam, cellphone camera, or a studio quality camcorder. It can be anything from you telling Monsanto to leave the food supply alone to highlighting the numerous pieces of information regarding their destructive acts of corruption against humanity. Add 'Monsanto Video Revolt' to the title or description.
- Step 2: Upload your video to the major video hosting website, like Youtube, Vimeo, Liveleak, Dailymotion, NaturalNews.tv, and any others.
- Step 3: Spread your video like wildfire on Facebook, Twitter, etc., and make sure that Monsanto knows we are exposing their entire agenda.
Here's an image that clearly lists the steps of the Monsanto Video Revolt: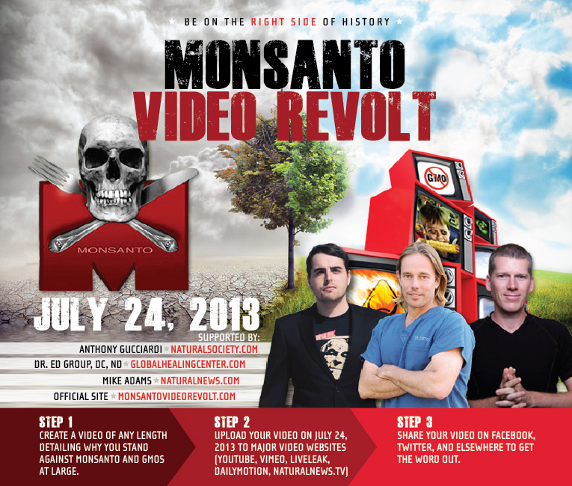 This post originally appeared at Natural Society [4]
---
Article printed from Prison Planet.com: http://www.prisonplanet.com
URL to article: http://www.prisonplanet.com/monsanto-video-revolt-massive-grassroots-campaign-launched-against-gmos-monsanto.html
URLs in this post:
[1] NaturalNews: http://www.naturalnews.com/index.html
[2] Global Healing Center: http://www.globalhealingcenter.com/natural-health/announcing-monsanto-video-revolt-july-24/
[3] Facebook: https://www.facebook.com/NaturalSociety
[4] Natural Society: http://naturalsociety.com/monsanto-video-revolt-grassroots-gmos-monsanto/
[5] The Final Stand: Grassroots Movement Against Monsanto Explodes: http://www.prisonplanet.com/the-final-stand-grassroots-movement-against-monsanto-explodes.html
[6] Monsanto Video Revolt Campaign live stream: http://www.prisonplanet.com/monsanto-video-revolt-campaign-live-stream.html
[7] Chipotle First US Chain Restaurant to Label GMOs: http://www.prisonplanet.com/chipotle-first-us-chain-restaurant-to-label-gmos.html
[8] 'Biotech ambassadors' engaging in massive Monsanto-backed PR operations to push GMOs into Africa: http://www.prisonplanet.com/biotech-ambassadors-engaging-in-massive-monsanto-backed-pr-operations-to-push-gmos-into-africa.html
[9] Monsanto Launches Massive Campaign to Stop GMO Labeling: http://www.prisonplanet.com/monsanto-launches-massive-campaign-to-stop-gmo-labeling.html
Click here to print.