New York Gov: Gun Confiscation and Forced Buy-back an Option
Posted By yihan On December 21, 2012 @ 12:01 pm In Featured Stories,Tile | Comments Disabled
Kurt Nimmo
Prisonplanet.com
December 21, 2012

New York governor Andrew Cuomo [1] says the state of New York is serious about gun confiscation. The Democrat and former Secretary of Housing and Urban Development told an Albany radio station he plans to propose a package of draconian legislation during his State of the State address next month.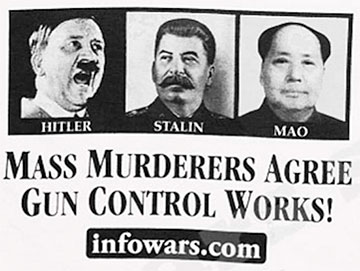 "I don't think legitimate sportsmen are going to say, 'I need an assault weapon to go hunting,'" Cuomo said, according to the New York Times. "There is a balance here — I understand the rights of gun owners; I understand the rights of hunters."
Cuomo indicated the state will likely force some kind of permit process on owners of semi-automatic "assault weapons." In addition to generating revenue and expanding the size and reach of government, the effort will allow the state to confiscate the weapons of citizens who do not comply.
"Confiscation could be an option. Mandatory sale to the state could be an option. Permitting could be an option — keep your gun but permit it," the governor said.
Cuomo's confiscation scheme follows remarks by liberal members of the establishment media who demand the government seize firearms from law-abiding citizens. Earlier this week, MSNBC's Ed Schultz tweeted [2] in favor of gun confiscation.
"We need to get guns and bullets and automatic weapons off the streets," said CNN's Don Lemon [3] following the Sandy Hook massacre. "They should only be available to police officers and to hunt al-Qaeda and the Taliban and not hunt elementary school children."
Anti-Second Amendment advocates have attacked gun ownership from a number of angles. On Thursday, anti-gun zealot and filmmaker Michael Moore [4] said the desire to own firearms and support the Second Amendment is tied to racism.
"I think we're a very frightened people," Moore said. "I think we've been frightened ever since we landed on these shores. We were frightened of the native people… we were frightened of the slaves we brought over, as we should have been."
Moore said gun ownership "cuts down to the heart of our race problem that we still haven't resolved."
---
Article printed from Prison Planet.com: http://www.prisonplanet.com
URL to article: http://www.prisonplanet.com/new-york-gov-gun-confiscation-and-forced-buy-back-an-option.html
URLs in this post:
[1] Andrew Cuomo: http://www.nytimes.com/2012/12/21/nyregion/cuomo-says-he-will-outline-gun-measures-next-month.html?_r=0
[2] d Schultz tweeted: http://www.infowars.com/ed-schultz-confiscate-guns-and-kill-the-second-amendment/
[3] Don Lemon: http://newsbusters.org/blogs/matt-hadro/2012/12/17/cnns-lemon-goes-anti-gun-tirade-calls-assault-weapons-ban
[4] Michael Moore: http://www.realclearpolitics.com/video/2012/12/20/michael_moore_americas_desire_to_own_guns_tied_to_racial_fears.html
[5] Video: New York Democrats Plan for Gun Confiscation: http://www.prisonplanet.com/video-new-york-democrats-plan-for-gun-confiscation.html
[6] Another Democrat Calls for Gun Confiscation: http://www.prisonplanet.com/another-democrat-calls-for-gun-confiscation.html
[7] Legal Gun Owners in New York Outed Like Sex Offenders: http://www.prisonplanet.com/legal-gun-owners-in-new-york-outed-like-sex-offenders.html
[8] California Announces Semi-auto Confiscation Plan: http://www.prisonplanet.com/california-announces-semi-auto-confiscation-plan-2.html
[9] The Resistance Begins: New York Gun Owners Refuse to Register: http://www.prisonplanet.com/the-resistance-begins-new-york-gun-owners-refuse-to-register-%e2%80%9clargest-act-of-civil-disobedience-in-state-history%e2%80%9d.html
Click here to print.