North Carolina National Guard Rapid Reaction Force Civil Unrest Training Photos
Posted By admin On July 6, 2013 @ 3:15 am In Featured Stories,Tile,U.S. News | Comments Disabled
Public Intelligence [1]
July 6, 2013
The following photos depict soldiers from the 252nd Combined Arms Battalion training in June for their role as a "rapid reaction force" capable of responding anywhere in the state of North Carolina within "four to eight hours with additional forces arriving within 24 to 36 hours." The same unit trained in March to respond "to an emergency ahead of federal assets by providing site security, establishing roadblocks or checkpoints, and assisting civilian authorities in controlling civil disturbances."
The exercises depicted below were held from June 10-14 at an abandoned shopping mall and a water treatment facility in Charlotte. Soldiers trained to suppress protesters who perform a sit-in as part of a fictional group called "The Pink Panthers." According to the North Carolina National Guard, the exercise at the water treatment facility tests soldiers' "ability to use nonlethal force to disperse a crowd of aggressors." Photos of the exercise show soldiers operating from Be On the Look Out (BOLO) notices with the identities of specific individuals in the crowd, listed as "AIN Members," that are to be targeted for arrest.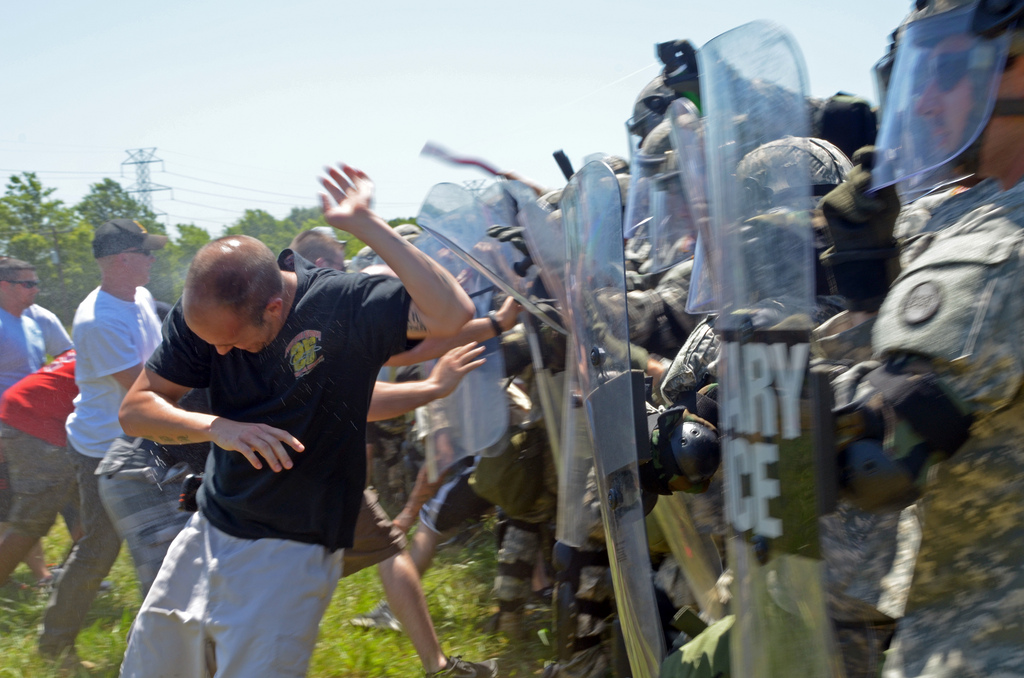 More photos here [1]
---
Article printed from Prison Planet.com: http://www.prisonplanet.com
URL to article: http://www.prisonplanet.com/north-carolina-national-guard-rapid-reaction-force-civil-unrest-training-photos.html
URLs in this post:
[1] Public Intelligence: http://publicintelligence.net/north-carolina-national-guard-rrf-photos/
[2] Satellite Images of the CIA's Secret Bin Laden Training Facility: http://www.prisonplanet.com/satellite-images-of-the-cias-secret-bin-laden-training-facility.html
[3] Indiana National Guard Warns Soldiers of Possible Chemical Exposure: http://www.prisonplanet.com/indiana-national-guard-warns-soldiers-of-possible-chemical-exposure.html
[4] Pittsburgh National Guard Prepare For Crowd Control Duties: http://www.prisonplanet.com/pittsburgh-national-guard-prepare-for-crowd-control-duties.html
[5] FEMA and Pentagon's National Guard Homeland Response Force Trains in New York: http://www.prisonplanet.com/fema-and-pentagons-national-guard-homeland-response-force-trains-in-new-york.html
[6] North Carolina Terror Arrests Timed to Coincide with NLE 09: http://www.prisonplanet.com/north-carolina-terror-arrests-timed-to-coincide-with-nle-09.html
Click here to print.