Prince Harry's Mental Problem: Murdering Afghans is Like a Video Game
Posted By kurt_nimmo On January 22, 2013 @ 11:26 am In Featured Stories,Tile | Comments Disabled
Kurt Nimmo
Prison Planet.com
January 22, 2013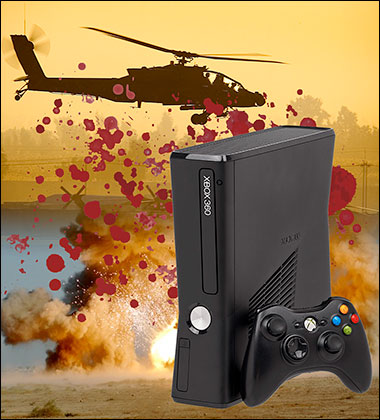 After frolicking naked [1] with a nude nubile in Las Vegas, Captain Harry Wales was sent to Afghanistan to co-pilot an Apache attack helicopter and fight the CIA-created [2] opposition, the Taliban.
The dashing young grandson of the aging monarch Queen Elizabeth and the second son of heir-to-the-throne Prince Charles has since compared killing Afghan insurgents to playing video games.
Taking out officially designated enemies with Hellfire missiles is a "joy for me because I'm one of those people who loves playing PlayStation and Xbox," Harry told the BBC [3]. "So with my thumbs I like to think I'm probably quite useful."
Taliban spokesman Zabihullah Mujahid told The Telegraph [4] Harry is a "coward" for comparing his military escapades to playing a video game. "To describe the war in Afghanistan as a game demeans anyone – especially a prince, who is supposed to be made of better things," he said.
"It shows the lack of understanding, of knowledge. It shows they are unfamiliar with the situation and shows why they are losing."
"It's not a game. It's very, very real."
"But we don't take his comments very seriously, as we have all seen and heard that many foreign soldiers, occupiers who come to Afghanistan, develop some kind of mental problems on their way out," Mujahid said.
Following his departure from the war zone, the BBC ran a documentary on Prince Harry's "tour of duty" in Afghanistan.
The propaganda piece will provide more pro-war fodder for a weary British people who have suffered centuries of dynastic wars waged by kings claiming the divine right to slaughter and pillage.
---
Article printed from Prison Planet.com: http://www.prisonplanet.com
URL to article: http://www.prisonplanet.com/prince-harrys-mental-problem-murdering-afghans-is-like-a-video-game.html
URLs in this post:
[1] frolicking naked: http://www.tmz.com/2012/08/21/prince-harry-naked-photos-nude-vegas-hotel-party/
[2] CIA-created: http://rupeenews.com/usa/the-taliban-was-a-construct-of-the-cia-and-was-armed-by-the-cia/
[3] BBC: http://news.yahoo.com/blogs/lookout/taliban-prince-harry-144857323.html
[4] The Telegraph: http://www.telegraph.co.uk/news/uknews/prince-harry/9818460/Prince-Harry-driving-wedge-between-forces-and-Afghan-locals.html
[5] Prince Harry says call to action 'brings taste of blood': http://www.prisonplanet.com/prince-harry-says-call-to-action-brings-taste-of-blood.html
[6] Palace tries to ban naked photos of Prince Harry: http://www.prisonplanet.com/palace-tries-to-ban-naked-photos-of-prince-harry.html
[7] "Flying Drones Is a Lot Like Playing a Video Game": http://www.prisonplanet.com/flying-drones-is-a-lot-like-playing-a-video-game.html
[8] Boy Kills Mum Over Video Game Ban: http://www.prisonplanet.com/boy-kills-mum-over-video-game-ban.html
[9] Life as a US drone operator: 'It's like playing a video game for four years': http://www.prisonplanet.com/life-as-a-us-drone-operator-its-like-playing-a-video-game-for-four-years.html
Click here to print.