State Department Condemns Its Most Effective Mercenaries in Syria
Posted By kurt_nimmo On December 7, 2012 @ 12:35 pm In Featured Stories,Tile | Comments Disabled
Kurt Nimmo
Prison Planet.com
December 7, 2012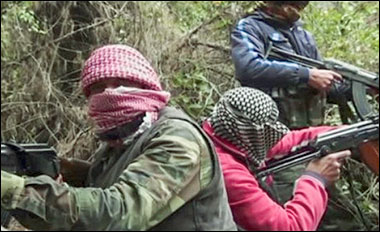 On Wednesday the State Department announced it plans to designate Jabhat al-Nusra as a Foreign Terrorist Organization [1]. The designation will be finalized before the next so-called Friends of Syria meeting, scheduled to take place in Morocco December 12.
The Friends of Syria was established in response to a Russian and Chinese veto on a Security Council resolution condemning Syria. Obama admits [2] the group is a creation of the United States.
The State Department designation reeks of hypocrisy because the al-Qaeda spin-off currently terrorizing Syria is the most effective front-line fighting group in the CIA's effort to unseat the al-Assad regime in Damascus. In other words, without Jabhat al-Nusra, the war against Syria would have failed long ago.
In late November, the corporate media kick-started a propaganda campaign to characterize al-Nusra as a dangerous terrorist group while admitting it is essential to the success of the proxy war against al-Assad and the Alawite Shiite ruling elite in Syria.
"The extremist group is growing in part because it has been the most aggressive and successful arm of the rebel force," David Ignatius [3] wrote for the Washington Post on November 30. "Jabhat al Nusra, which U.S. officials believe has links to al Qaida, has become essential to the frontline operations of the rebels fighting to topple Assad," added David Enders [4], writing for McClatchy Newspapers on December 2.
On December 5, Paul Joseph Watson [5] wrote about the trademark brutality of the Sunni Wahhabist gang operating under the tutelage of the fossilized monarchies in Saudi Arabia and Qatar: "Jabhat al-Nusra has claimed responsibility for numerous suicide bombings and other attacks that have killed hundreds of innocent people. Last weekend, disturbing footage emerged [6] of one of their members slaughtering prisoners in cold blood. Extremist militants have also ransacked Christian churches [7] and carried out sectarian beheadings [8]."
Now that it looks like the Syrian mercenaries may in fact topple al-Assad – ultimately with the help of the U.S. military and NATO under the pretext of preventing the Syrian regime from using chemical weapons – it is safe to designate Jabhat al-Nusra as a Foreign Terrorist Organization. Its services as a front-line terrorist group will no longer be needed on the battlefield.
The U.S. and NATO used a similar plan to take down Gaddafi in Libya. During the bloody proxy war in the north African nation, NATO commander Adm. James Stavridis [9] said al-Qaeda had a minimal presence among the rebels. However, as historian Webster Tarpley [10] documents, the Libyan opposition was rife with al-Qaeda, including members of the Libyan Islamic Fighting Group (LIFG) who had sworn fealty to the CIA created terror group.
The LIFG was founded in 1995 by a group of mujahideen veterans who had fought against the Soviet occupation of Afghanistan. The mujahideen operation was run by the CIA, Pakistan's ISI, and the Saudis. It eventually became al-Qaeda, the Taliban, and assorted jihadists.
As we noted on March 29, 2011, a CIA operative by the name of Khalifa Hifter [11] was appointed to run the proxy war against Gaddafi in Libya.
Following the overthrow and murder of Gaddafi, Libya became a refuge for al-Qaeda and assorted Sunni jihadists, including Ansar al-Sharia, the group that allegedly killed U.S. ambassador Christopher Stevens in Benghazi.
"AQIM [Al-Qaeda in the Islamic Maghreb] leaders are also attempting to establish ties with other Libyan Islamist groups in the hope of establishing an al-Qaeda fiefdom there similar to the one it has created in nearby Mali," the Telegraph [12] reported on December 2.
According to this video, even the "secular" Free Syrian Army plans to establish an Islamic dictatorship in Syria.
"Their aim is to establish a foothold in Libya from which to launch attacks against Western targets, as well as gaining access to the large stockpiles of weapons – including Russian-made anti-aircraft missiles – that were looted by Libyan rebels during the fall of Colonel Muammar Gaddafi's regime at the end of last year."
Following the fall of Syria, the U.S. will once again fret and theatrically gnash teeth in response to the presence of fanatical Sunni jihadists attempting to establish an austere sharia dictatorship in the country similar to the one now going in place in Libya.
The establishment media will chalk this up to ineptitude on the part of the Obama administration, the State Department and the Pentagon. However, the tenacious foothold of Wahhabi fanaticism – in Libya, Syria, and Egypt where the intelligence asset the Muslim Brotherhood is establishing a sharia-based theocracy – will further the objectives of the globalists who seek order out of chaos and also plan to run indefinitely their highly profitable military-industrial-intelligence scam known as the war on terror.
---
Article printed from Prison Planet.com: http://www.prisonplanet.com
URL to article: http://www.prisonplanet.com/state-department-condemns-its-most-effective-mercenaries-in-syria.html
URLs in this post:
[1] designate Jabhat al-Nusra as a Foreign Terrorist Organization: http://security.blogs.cnn.com/2012/12/05/u-s-to-add-syrian-group-to-terror-list/
[2] Obama admits: http://en.wikipedia.org/wiki/Friends_of_Syria_Group
[3] David Ignatius: http://www.washingtonpost.com/blogs/post-partisan/post/al-qaeda-affiliate-playing-larger-role-in-syria-rebellion/2012/11/30/203d06f4-3b2e-11e2-9258-ac7c78d5c680_blog.html
[4] David Enders: http://www.mcclatchydc.com/2012/12/02/176123/al-qaida-linked-group-syria-rebels.html#storylink=omni_popular#storylink=cpy#storylink=cpy
[5] Paul Joseph Watson: http://www.infowars.com/syrian-rebels-when-we-finish-with-assad-we-will-fight-the-u-s/
[6] disturbing footage emerged: http://www.prisonplanet.com/shock-video-syrian-rebel-massacres-10-unarmed-prisoners.html
[7] ransacked Christian churches: http://www.infowars.com/syrian-rebels-ransack-christian-churches/
[8] beheadings: http://www.youtube.com/watch?v=iogH78kXccU&feature=fvst
[9] Adm. James Stavridis: http://www.washingtontimes.com/news/2011/mar/29/1000-freelance-jihadists-join-libyan-rebels/
[10] Webster Tarpley: http://www.prisonplanet.com/the-cia's-libya-rebels-the-same-terrorists-who-killed-us-nato-troops-in-iraq.html
[11] Khalifa Hifter: http://www.infowars.com/cia-operative-appointed-to-run-al-qaeda-connected-libyan-rebels/
[12] Telegraph: http://www.telegraph.co.uk/news/worldnews/al-qaeda/9717206/Al-Qaeda-intensifying-efforts-to-establish-new-base-in-Libya.html
[13] State Department Blames Assad for al-Qaeda in Syria: http://www.prisonplanet.com/state-department-blames-assad-for-al-qaeda-in-syria.html
[14] Al-Nusra Mercenaries in Syria Slaughter Kurdish Women and Children: http://www.prisonplanet.com/al-nusra-mercenaries-in-syria-slaughter-kurdish-women-and-children.html
[15] Al Qaeda in Syria: http://www.prisonplanet.com/al-qaeda-in-syria.html
[16] Jihadis bankroll aid efforts in Syria to win followers: http://www.prisonplanet.com/jihadis-bankroll-aid-efforts-in-syria-to-win-followers.html
[17] Obama To Arm Al-Qaeda Terrorists In Syria: http://www.prisonplanet.com/obama-to-arm-al-qaeda-terrorists-in-syria.html
Click here to print.