UN Propaganda Asset Angelina Jolie Treks to Syrian Refugee Camp
Posted By kurt_nimmo On September 10, 2012 @ 12:09 pm In Featured Stories,Tile | Comments Disabled
Kurt Nimmo
Prison Planet.com
September 10, 2012

CFR member, United Nations propaganda asset and "special envoy" Angelina Jolie [1] has been sent to Jordan to bring attention to the squalid conditions at the Zaatari refugee.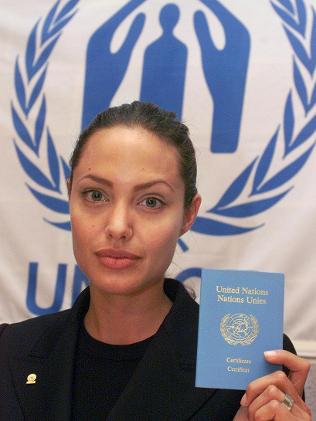 "UNHCR spokesman Ali Bebe says the Hollywood star arrived Monday and is to visit Jordan's first tent city for Syrian refugees on Tuesday morning," the Associated Press reports.
Jolie will be accompanied by U.N. refugee chief Antonio Guterres and Jordanian Foreign Minister Nasser Judeh. Guterres is a former prime minister of Portugal and leading member of the Socialist International and a Bilderberg attendee [2].
Zaatari is one of a number of Syrian refugee camps in the Jordanian desert. The U.S. and its asset run by the CIA and Britain's MI6, the Free Syrian Army (FSA), recruit fighters from the camps for the ongoing effort to depose Bashar al-Assad and install a more globalist friendly entity in Syria.
"Jordan has rejected several requests by the Assad government for the extradition of [Syrian government] defectors and has allowed entry to hundreds of Syrian rebels who move freely around the country," the Times of Israel [3] reported in August.
The al-Assad government claims Syrian refugee camps in Jordan, Lebanon and Turkey are being used to recruit and train anti-Assad fighters. The practice is especially pronounced in Turkey.
"They [Syrian rebels] cross the border, then they walk back again. Maybe the Turkish army finds some and takes them back to the camp, others just come by themselves. A lot of these people work with the Free Syrian Army," an anonymous occupant of a refugee camp told RT's Sara Firth [4] in August.
In March, the FSA was accused of using children as fighters in violation of international conventions banning the recruitment of child soldiers, according to Reuters. "We are receiving allegations of children with the Free Syrian Army," said Radhika Coomaraswamy [5], U.N. special representative for children and armed conflict.
By visiting a refugee camp where there is a large number of anti-Assad refugees and potential FSA recruits, Angelina Jolie is lending her name to the illegal and criminal war against the Syrian government. The United Nations passed a resolution earlier this year condemning Syria viewed by Russia and China as supporting the FSA and al-Qaeda.
"Behind the facade of humanitarian rhetoric, the resolution hides a blatant support for the armed opposition," Vitaly Churkin, Russia's UN ambassador, said in August.
Churkin said the "most active" supporters of the resolution "are actively supporting and financing" the opposition and "giving them mercenaries and arms." Saudi Arabia drew up the resolution with strong support from other Arab and western nations, according to Aljazeera [6].
Following the destruction of Libya and the slaughter of 30,000 Libyans [7], Jolie ventured [8] to the North African country and praised the "revolutionaries" supported by NATO [9], the CIA [10] and al-Qaeda [11].
---
Article printed from Prison Planet.com: http://www.prisonplanet.com
URL to article: http://www.prisonplanet.com/un-propaganda-asset-angelina-jolie-treks-to-syrian-refugee-camp.html
URLs in this post:
[1] Angelina Jolie: http://www.dailystar.com.lb/Entertainment/Celebrities/2012/Sep-10/187415-angelina-jolie-in-jordan-to-visit-syrian-refugees.ashx#axzz265pRNRTo
[2] Bilderberg attendee: http://reocities.com/Athens/troy/6553/Study/Eschatology/esch_zbilder.html
[3] Times of Israel: http://www.timesofisrael.com/secret-jordanian-compound-provides-shelter-for-syrian-defectors/
[4] Sara Firth: http://rt.com/news/syria-refugee-camps-rebels-669/
[5] Radhika Coomaraswamy: http://www.reuters.com/article/2012/03/26/us-syria-un-idUSBRE82P0W220120326
[6] Aljazeera: http://www.aljazeera.com/news/middleeast/2012/08/2012831604665629.html
[7] 30,000 Libyans: http://news.yahoo.com/libyan-estimate-least-30-000-died-war-074915415.html
[8] Jolie ventured: http://www.reuters.com/article/2011/10/12/us-libya-jolie-idUSTRE79A3S820111012
[9] ATO: http://www.infowars.com/washingtons-agenda-revealed-us-backed-rebels-ask-nato-to-stay-in-libya/
[10] CIA: http://www.infowars.com/tarpley-on-libya-rebels-a-cia-secret-army-of-al-qaeda-terrorists/
[11] al-Qaeda: http://www.infowars.com/libyan-rebel-leader-admits-connection-to-cia-al-qaeda-asset-in-iraq/
[12] Syrian rebels 'using Turkish refugee camps as base': http://www.prisonplanet.com/turkey-talks-tough-as-syrian-violence-boils-over-border.html
[13] Angelina Jolie Reveals She Is Also Having Her Ovaries Removed: http://www.prisonplanet.com/angelina-jolie-reveals-she-is-also-having-her-ovaries-removed.html
[14] Arrest Angelina Jolie For War Crimes: Kony 2012: http://www.prisonplanet.com/arrest-angelina-jolie-for-war-crimes-kony-2012.html
[15] Angelina Jolie Shills for Globalist Plan in Africa at ICC Trial: http://www.prisonplanet.com/angelina-jolie-shills-for-globalist-plan-in-africa-at-icc-trial.html
[16] Natural News challenges Angelina Jolie to denounce corporate patents on human genes: http://www.prisonplanet.com/natural-news-challenges-angelina-jolie-to-denounce-corporate-patents-on-human-genes.html
Click here to print.