Voters Take to Social Media to Report Massive Vote Fraud
Posted By admin On November 6, 2012 @ 4:55 pm In Featured Stories | Comments Disabled
Kurt Nimmo
Prison Planet.com
November 6, 2012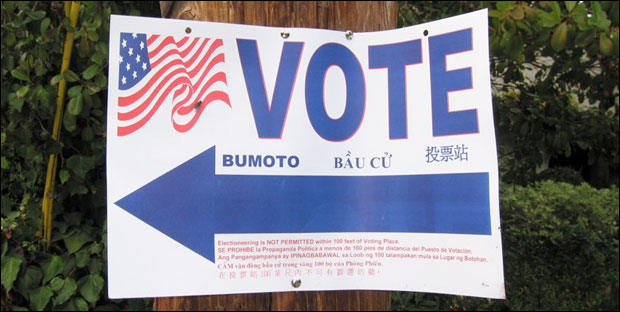 Photo: John Lee
The efficacy of the voting process is being called into question today as people report massive vote fraud on social media websites.
Twitchy.com [1] has posted a number of Tweets from people who say they either voted more than once or somebody had previously voted using their names.
"A friend of mine (former GOP official) showed up to vote in VA this morning and was informed he'd already done so. He had not," one tweet complained. "Voted voted voted! I voted three times," said another.
A Republican voter in Nevada was arrested last week [2] for attempting to vote twice. Nevada's Election Integrity Task Force was investigating other alleged incidents of vote fraud in the state.
In early October, Project Veritas covertly recorded a Obama for America campaign staffer instructing an undercover reporter posing as a Obama activist how to vote twice [3].
While the Democratic National Committee quickly fired [4] Regional Field Director Stephanie Caballero after House Judiciary Committee chairman Rep. Lamar Smith called for Democrats to fire all paid staffers involved in vote fraud, the clandestinely recorded encounter revealed a disturbing mindset – an undetermined number of Obama activists believe fraud is acceptable to get Obama back in the White House for a second term.
Democrats vehemently oppose any sort of voter identification requirement at the polls. They claim the effort to eliminate vote fraud is a scheme by Republicans to disenfranchise voters who are "are disproportionately low-income, disabled, minority, young, and older," according to the Democratic National Committee [5].
---
Article printed from Prison Planet.com: http://www.prisonplanet.com
URL to article: http://www.prisonplanet.com/voters-take-to-social-media-to-report-massive-vote-fraud.html
URLs in this post:
[1] Twitchy.com: http://twitchy.com/2012/11/06/voter-fraud-people-go-to-vote-ballots-already-cast-in-their-names-others-vote-more-than-once/?utm_source=autotweet&utm_medium=twitter&utm_campaign=twitter
[2] arrested last week: http://www.ksla.com/story/19990620/woman-arrested-for-attempting-to-vote-twice
[3] how to vote twice: http://townhall.com/tipsheet/katiepavlich/2012/10/10/caught_on_tape_obama_campaign_worker_helping_activist_vote_twice
[4] fired: http://dailycaller.com/2012/10/11/dnc-fires-obama-campaign-staffer-for-assisting-voter-fraud-attempt/
[5] Democratic National Committee: http://www.democrats.org/the-real-cost-of-photo-id-laws
[6] Massive Evidence Of Vote Fraud In Nevada: http://www.prisonplanet.com/massive-evidence-of-vote-fraud-in-nevada.html
[7] The Voter Fraud That 'Never Happens' Keeps Coming Back: http://www.prisonplanet.com/the-voter-fraud-that-%e2%80%98never-happens%e2%80%99-keeps-coming-back.html
[8] Caught on Tape: Rampant Vote Fraud By Government Officials On House Floor: http://www.prisonplanet.com/caught-on-tape-rampant-vote-fraud-by-government-officials-on-house-floor.html
[9] Poll Watcher: Massive Voter Fraud In VA: http://www.prisonplanet.com/poll-watcher-massive-voter-fraud-in-va.html
[10] Election Fraud? Obama Won More Than 99 Percent Of The Vote In More Than 100 Ohio Precincts: http://www.prisonplanet.com/election-fraud-obama-won-more-than-99-percent-of-the-vote-in-more-than-100-ohio-precincts.html
Click here to print.