Infowars.com
April 14, 2011
Alex Jones issued another Google-bomb today [a non-violent activist technique], in part to test whether the search engine was employing algorithms to block certain trends. The question looms larger as the first search term "6 year old groped" failed to trend, while "Alex Jones" reached number 1 on Google Trends (as several dozens of search terms initiated at Infowars.com have also done.)
Is Google playing a role in quieting anger over the TSA's violating grope-down of an innocent young girl, or was it just a fluke in the Google system? The TSA, long a controversial agency, has been quick to play down criticism over the child's pat-down.
Thanks to our listeners once again for driving the terms and trying to spread awareness about real issues in the news cycle.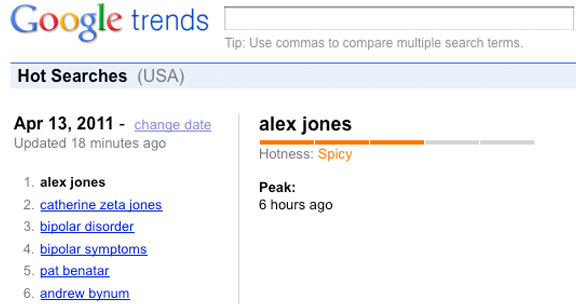 A d v e r t i s e m e n t
Steve Watson
Prisonplanet.com
April 13, 2011
The parents of a six year old girl who was subjected to an enhanced pat-down at the hands of the TSA appeared confused and disturbed in an interview on ABC News' Good Morning America today as they called for a change in security procedures.
Selena and Dr. Todd Drexel, of Bowling Green, Ky., were thrust into the spotlight this week after a video of their daughter, Anna, being searched at New Orleans Armstrong International Airport went viral on the internet. >>>Read full article
Stock up with Fresh Food that lasts with eFoodsDirect (AD)
You Tube
April 11, 2011
This article was posted: Thursday, April 14, 2011 at 4:49 am
---
---
Print this page.
---
---
Infowars.com Videos:
Comment on this article