Aaron Dykes
Prison Planet.com
Friday, November 12, 2010
A surge in criticism by passengers, pilots and others against the Transportation Security Administration's (TSA) increasingly violating practices, along with extensive coverage on the Drudge Report has resulted in an all-out "Revolt Against TSA." Now, that search term has reached #1 on Google Trends in another success for Infowarriors seeking to inject serious issues into the mainstream debate.
Good job to all our supporters. Be sure to check out these links and share them with everyone you know:
Big Sis Forced To Respond To Nationwide Revolt Against TSA
DHS May Turn To Body Scanners That Store Biometrics
World Battles The Invasion Of The Naked Body Scanners
TSA Desktop Image Makes Joke of Cavity Searching Children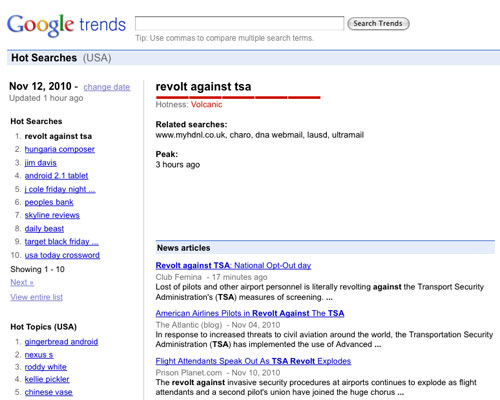 This article was posted: Friday, November 12, 2010 at 2:55 pm
---
---
Print this page.
---
---
Infowars.com Videos:
Comment on this article