Aaron Dykes
Prison Planet.com
Friday, January 14, 2011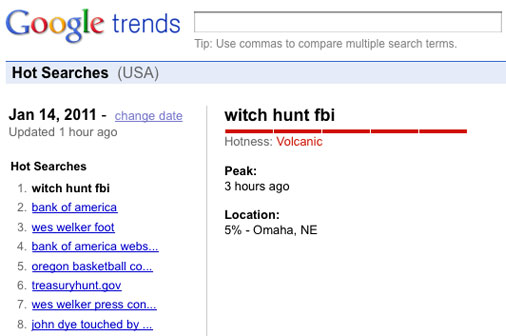 Great job to our supporters once again, as another search term, 'Witch Hunt FBI' has gone viral and reached #1 on Google Trends this Friday, January 14, 2011. The term is intended to bring attention to the fact that following a media hailstorm blaming the Loughner shootings on "rightwingers" and "conspiracy theorists," the FBI has actually begun visiting the homes of dissenters who criticize members of Congress to investigate their intentions.
Fresh food that lasts from eFoodsDirect (AD)
From Paul Joseph Watson's article:
We can add another victim to the Tucson tragedy – the right to criticize government without fear of getting a knock on your door from the feds. Despite the fact that shooter Jared Loughner was not politically motivated, the FBI is now compiling a list of Americans deemed a potential threat because they criticized their representative – and targeting them with home visits.
An Ozark man who ran a blog last year critical of Republican Congressman Billy Long was shocked to see an FBI agent turn up on his doorstep asking questions. The agent was accompanied by Green County Sheriff Jim Arnott, who had stepped outside of his jurisdiction to become involved in this act of political repression directed against Clay Bowler, a resident of Christian County. >>>READ MORE
The Witch Hunt Begins: Citizen Spy Network Targets Political Speech and Gun Owners
This article was posted: Friday, January 14, 2011 at 4:42 pm
---
---
Print this page.
---
---
Infowars.com Videos:
Comment on this article