Infowars.com
December 3, 2010
UPDATE FROM ALEX JONES AND GOV. JESSE VENTURA ON SECRETIVE "POLICE STATE" CANCELLATION
FRI, DEC. 3 11:25 AM CST — This is an update on the now-confirmed bizarre cancellation of the "Police State" FEMA camp episode from TruTV's schedule, which is apparently due to background pressure.
Alex Jones, a consultant to the show who appears in "Police State", noticed three weeks ago that the episode was scheduled to air before the then-newest episode on Fridays at 10 PM EST / 9 PM CST. Alex knew that encore episodes were consistently replayed over-and-over prior to brand new Friday premiere episodes, so red flags went up when it did not re-air like all the others. Now that more inconsistencies have been documented, Alex made some phone calls to get to the bottom of the matter.
This morning, Alex spoke with Gov. Jesse Ventura and discovered that he was fully aware of the fact that "Police State" had been pulled due to pressure from within the government. The former Minnesota governor and star of the show indicated that he's not ready to make a full statement yet as he's still investigating the details and talking with network execs. However, Ventura urged that people have a right as citizens to contact TruTV and let them know that they want to see it back on air.
Write us:
truTV
600 Third Avenue
New York, NY 10016
Call us: 800.268.7856
Whatever the full cause of the behind-the-scenes pressure, it is clear that the government does not want audiences discussing FEMA camps and Fusion Centers or looking up H.R. 645, the bill named and read in the episode that authorizes FEMA emergency centers. Alex has done all he can to make sure the TruTV series is packed with hard-hitting facts and full of real, substantial issues. Though the show employs the dramatic techniques used through television, this is not the typical fluff. People had better understand that these are truly groundbreaking shows that are discussing damning evidence that the establishment doesn't want sinking into the minds of a mainstream audience. Who knows if tonight's water episode investigating lithium, uranium and fluoride being added to drinking water as a means of population control will itself even air or be replayed after the fact.
Lovers of liberty and supporters of Conspiracy Theory had better cue their DVRs and other recorders and save the episode for good, because with the censorship we've already seen, it is difficult to know how long this program will remain on air, or which episodes it will allow to repeat.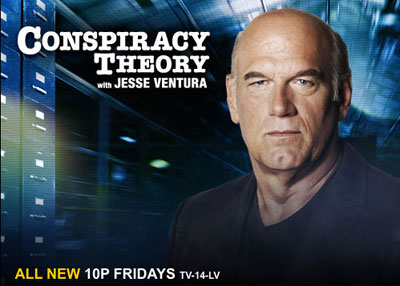 Alex Jones, a consultant to TruTV's Conspiracy Theory, can confirm that the controversial episode "Police State," which dealt with FEMA camps and fusion centers, has been pulled from air and essentially "memory-holed" due to behind the scenes pressure.
In short, the series of inconsistencies with the re-airing and promotion for "Police State" posted by We Are Change and Federal Jack (below) is all true, and more. The episode was de-listed from TruTV's website, bonus clips associated with the episode were removed from the website, its encore airings were canceled and it was not played during the recent Conspiracy Theory marathon. Alex cannot elaborate further without compromising his sources, but you have heard people associated with the show discussing on the radio how certain unnamed powerful people did not want this revealing episode to air, how shadowy figures have been caught rummaging through the trash of producers for the show, and beyond.
The producers and talent for Conspiracy Theory, including former Governor Jesse Ventura, have shown a lot of courage in making their series as hard hitting as possible. With certain powers-that-be unhappy with such a substantial program airing on cable TV, supporters should treasure what they have been able to get out thus far. The very future of the series could be in question, though certainly things are still up in the air at this point. If you appreciate the content that has been on Conspiracy Theory thus far, you should do everything you can to tell your friends and associates to tune in, and make sure these dynamic episodes are seen as widely as possible.
The "Great Lakes" episode, now known as the "Worldwide Water Conspiracy" airing tomorrow, Fri, Dec. 3 at 10 PM EST / 9 PM CST also was nearly not aired, but made the second season schedule in the end. Producers have told the Alex Jones Show that it has expanded in scope and now deals with a number of hardcore issues including uranium, lithium, fluoride and more being added to public water supplies. Never before has such information been seen on television.
Please tune in and support this great TV program. From TruTV:
"Great Lakes" – NEW! — a.k.a. "Worldwide Water Conspiracy"
Premieres Fri, December 3 at 10P
They call it "Blue Gold." Water is the new oil. Once a human right, it's now a valuable commodity, and corporations and super-rich oil dynasties are believed to be buying up water rights, controlling nations and populations. Jesse looks into the possibility of these activities finding their way to American shores and uncovers what may be a plot to literally steal the Great Lakes.
Here's the "Police State" Episode. Get it out to people while you can:
Stock up for the Holidays with eFoods Direct and get FREE Shipping!
———————-
We Are Change.org
December 2, 2010
Several days ago, truTV decided to wipe clean of any mention of the bombshell "Police State" episode.
At one Time the website read:
"Police State"
Premiered Fri, November 12 at 10P
It's been said the government has a plan to declare martial law and round up millions of United State citizens into concentration camps. Jesse may have found a conspiracy in plain sight as he investigates the proliferation of law enforcement Fusion Centers around the country. And they may be connected to hundreds of detention centers ready to accept prisoners at the stroke of a Presidential pen. TV-PG-L

Police State Episode Info Erased from truTV's Website (Nov 25, 2010)
http://www.trutv.com/shows/conspiracy_theory/episodes/index.html
Police State and Alex Jones Videos Erased on truTV's Website (Nov 25, 2010)
http://www.trutv.com/video/conspiracy-theory/index.html
Police State Episode was blocked out of truTV Programming Code (Nov 26, 2010)
http://forum.prisonplanet.com/index.php?topic=193209.0
Police State Episode was Not Re-Aired on Nov.19th as previously scheduled.
(Popeye from FedJack.com documents this on his Youtube channel)
"Is Jesse Ventura's Police State Episode being censored by truTV?"

update: it was also not Aired on the "Conspiracy Theory Mini-Marathon" from 9pm-12am last night either (Nov 26).
The Police State episode Was Never Referenced on truTV's Facebook or Twitter Pages at any time. (All other episodes were)
The Police State episode was deleted from truTv's website (episode list and video section), around the same time (Nov. 25) the "Great Lakes" episode was finally listed to air on December 3, 2010.
I said "finally" because the upcoming episode "Great Lakes" has been scheduled and re-scheduled Many times in the past and is explained more clearly in this forum thread:
http://forum.concen.org/showthread.php?tid=35372
(This was discovered and investigated a month ago. Many bloggers have suggested that a censorship issue might exist, but does not seem to be connected to the current issue.)
The night the "Police State" episode aired, Michael Braverman Executive producer of the show said "that he had information that there were powerful forces that wanted the show off the air". You can hear additional comments from Mr. Braverman in the following video:
"Executive Producer Michael Braverman: Fusion Centers for American Citizens!! – Alex Jones Tv 2/2″

In linked interviews, Braverman and Tyrel Ventura (Jesse's son and a producer in the television show) raise interesting questions about men in suits examining Mr. Ventura's trash:
"Trutv's Tyrel Ventura: Bombshell News of Upcoming Episode on FEMA Camps!! – Alex Jones Tv 2/2″

The "Police State" episode got amazing television viewer ratings the first and only time that it aired:
"Conspiracy Theory with Jesse Ventura has performed strongly in its second season, with last Friday's installment ranking among cable's Top 5 programs for the 10 p.m. timeslot among men 18-49 (385,000). The series has also scored strong growth for its timeslot compared to the same period last year, with adults 18-49 up 49% and men 18-49 up 113%. That growth is focused in the younger portions of those demos, with adults 18-34 up 48% and men 18-34 up 94%."
Source Link: http://tvbythenumbers.zap2it.com/2010/11/23/ratings-notes-for-tbs-tnt-cartoon-network-adult-swim-and-trutv-including-conan-george-lopez-tower-prep-nba-averages-more/73228
Like Page Insights (click to enlarge)
A d v e r t i s e m e n t
http://www.facebook.com/ConspiracyTheoryWithJesseVentura
The reason why the "Like Page" did not censor the "Police State" episode is because I Administer the page.
Remember to be polite in contact with truTV and be sure to thank them for airing the show in the first place.
My strong recommendation would be to Contact truTV, ask why the "Police State" episode info and videos were from their website. Ask them why they chose not to re-air it, as was scheduled to be and was done with every other episode, and if there is a possibility that it will be.
Contact truTV: http://www.trutv.com/contact
This issue is concerning to me because i feel the "Police State" episode was the most powerful and important episode to date in my opinion. A couple reasons being video confirmation and expose of FEMA Camps / Coffins, at the same time Introducing "We Are Change" and "Alex Jones" to the public, as both are heavily featured in the episode.
I would also ask them to buy Jesse an RV to travel in for the Third Season or help set up a website so fans of the show can contact jesse about different modes of transportation such as private planes and and / or help fundraise to secure his transportation for the next season if the TSA abuses continue.
JESSE VENTURA ABUSED BY TSA WILL NO LONGER FLY.

The executive producer of the show included Tyrel and Jesse in saying they were all trying their hardest to keep the show on the air, and it is obvious there is a mounted resistance to this notion. We can not let these obstacles end Jesse's career, and I know that very many people would love to see a third season.
The Police State Episode:
This article was posted: Friday, December 3, 2010 at 5:48 am
---
---
Print this page.
---
---
Infowars.com Videos:
Comment on this article