CNN
Aug 18, 2010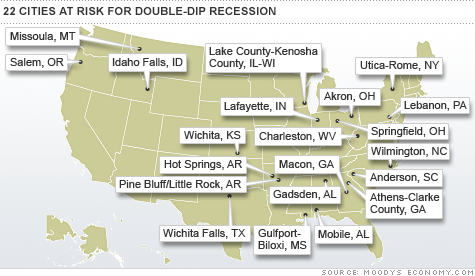 The chance of a national double-dip recession is hotly debated amid an increasing number of signs that the economic recovery is losing pace, but the risk is particularly troublesome on a local level.
A new report from Moody's Economy.com singled out 22 cities that are at risk of slipping back into a recession in as early as three months. To come to this conclusion, the economists considered dwindling progress in employment, housing starts, home prices and industrial production. (See the map above for the full list.)
Having A Supply Of Healthy Foods That Last Just Makes Sense
This article was posted: Wednesday, August 18, 2010 at 4:21 am
---
---
Print this page.
---
---
Infowars.com Videos:
Comment on this article