Kurt Nimmo
Prison Planet.com
January 9, 2012

Following remarks made by New York governor Andrew Cuomo that gun confiscation may be an option in the government's war against the Second Amendment, a state representative in Iowa has called for confiscating semi-automatic rifles and other firearms, The Daily Caller reports.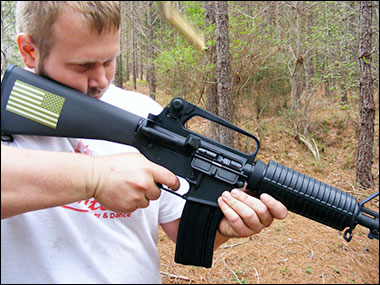 Photo: Mike Petrucci.
"We cannot have big guns out here as far as the big guns that are out here, the semi-automatics and all of them," state Rep. Dan Muhlbauer told the Daily Times Herald. "We should ban those in Iowa."
"Even if you have them, I think we need to start taking them," Muhlbauer added. "We can't have those out there. Because if they're out there they're just going to get circulated around to the wrong people. Those guns should not be in the public's hands. There are just too many guns."
In December, Democrat Cuomo suggested the government in New York force gun owners to surrender their weapons. "Confiscation could be an option. Mandatory sale to the state could be an option. Permitting could be an option — keep your gun but permit it," he said.
Earlier this month, Illinois Senate President John Cullerton introduced a bill in the Illinois legislature that would have effectively outlawed all modern firearms, criminalized their owners, and subjected their guns to confiscation by the Illinois State Police. Democrats ultimately failed to gain enough support for the legislation.
Dan Muhlbauer's comments demonstrate a renewed zeal on the part of Democrats and some Republicans to attack the Second Amendment following the Sandy Hook school murders. Federal and state governments are determined to push through legislation outlawing an entire class of firearms under the pretext that hunters and people who want to protect their families from violence do not need quasi-military firearms.
Republican Rep. Steve King, who represents western Iowa in Congress, understands the real reason for the Second Amendment, however. King said during a debate in October that the Second Amendment "is to guard against tyranny because our Founding Fathers understood that if you did not have an armed populace, a tyrant could take over America."
This article was posted: Wednesday, January 9, 2013 at 11:11 am
---
---
Print this page.
---
---
Infowars.com Videos:
Comment on this article