Charlie Skelton
London Guardian
June 10, 2011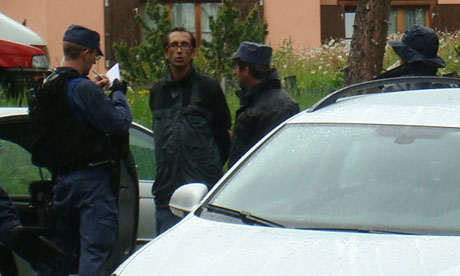 Just when you thought the annual four-day Bilderberg conference couldn't get any more exciting, a policeman goes and finds a bomb. Or at least, he went and found a "tubular device" that at certain angles, if you squinted a bit, looked sort of like a bomb. By that well known bomb manufacturer – Pringles.
All of a sudden the shout went up, out came the handcuffs, and two men (that nobody recognized) were bustled into custody. We're still trying to find out who they were or what they're charged with. Ownership of a tubular device is still frowned on in Switzerland. That's why Toblerone is shaped like that.
In light of this new tubular threat patrols were stepped up, sniffer dogs began sniffing about, and everyone was moved a bit further back from the hotel. Although it must have been a fairly mild scare, because soon enough the first delegates came zooming through the hotel gates in their limos.
Bilderberg's favourite power couple were spotted: Henry Kravis, head of private equity giant KKR (assets $60 billion) and his wife, Marie-Josée (Hudson Institute; International Advisory Board of the Federal Reserve). Then in swept Washington's hawkish 'Prince of Darkness', Richard Perle (Hudson Institute; PNAC; Hollinger; former Gaddafi adviser – etc. etc. etc.).
Stock up with Fresh Food that lasts with eFoodsDirect (AD)
This article was posted: Friday, June 10, 2011 at 4:07 am
---
---
Print this page.
---
---
Infowars.com Videos:
Comment on this article