Charlie Skelton
London Guardian
June 12, 2011
A shadow fell across the Engadine. The skylark ceased his merry song, the flowers curled and blackened in the meadow and a man in a special issue Bilderberg anorak set off on his stroll.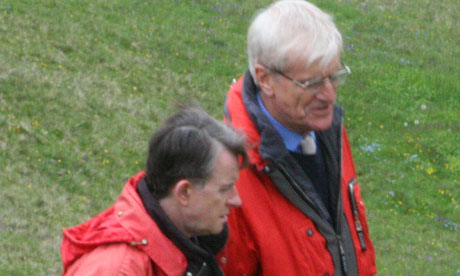 Bilderberg has had some bad ideas in its time (a European superstate, anyone?) but Lord Mandelson's nature walk has to be the worst. What were they hoping for? Had they not seen the 200 activists camped opposite the hotel gates?
Out of the gates they drove in their very own Bilderbus, up the mountain to a charming spot. The plan: to amble down through the gorgeous scenery, back to the Suvretta House Hotel for tea.
Out of the bus stepped Erich Schmidt, the executive chairman of Google, and Franco Bernabè, the CEO of Telecom Italia, followed by China's vice-minister of foreign affairs, Ying Fu, with her amazing hair.
Stock up with Fresh Food that lasts with eFoodsDirect (AD)
This article was posted: Sunday, June 12, 2011 at 5:05 am
---
---
Print this page.
---
---
Infowars.com Videos:
Comment on this article