Kurt Nimmo
PrisonPlanet.com
December 5, 2012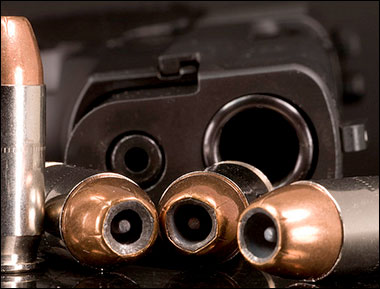 Photo by
kcdsTM
.
San Bernardino City Attorney James Penman had to clarify comments he made about firearms and self-defense to members of the city council who found his remarks "inappropriate," according to the Huffington Post.
Penman had told residents to "lock your doors and load your guns" due to a lack of police presence in the California city because of bankruptcy. "The problem is serious," Penman said. "The Police Department will do everything it can to protect you. … But they can't do everything they would like" because of financial problems.
The City Attorney told The Press-Enterprise he was repeating what the police officers told him – San Bernardino can give only basic law enforcement services due to cutbacks.
"We need to stop giving people false hope," Penman said. "We have to start encouraging people to protect themselves. The situation is that bad in San Bernardino."
Steve Turner, president of the San Bernardino Police Officers Association, said citizens arming themselves against criminals may lead to acts of vigilantism. "For the city attorney to come out and make a statement like that, it's fear-mongering at its worst and it's unnecessary, especially at a time like this when we all should be working together," he said.
Residents exercising their Second Amendment right to own firearms results in crime, according to Police Chief Robert Handy. He said "one of the biggest supplies of guns in our streets are guns taken in burglaries."
Penman made his "controversial" comment at a crime-focused forum last week. During the meeting, a resident told councilwoman Wendy McCammack that he had called police as he watched a burglary and waited more than three hours before police arrived.
"I can understand how people who don't live or work in the City of San Bernardino and don't hear the sirens every night, the gun shots, the helicopters overhead, as many San Bernardino residents do, might not understand the significance when you have people being killed in their homes," Penman said after the San Bernardino Sun accused him of "preying on people's fears."
Telling residents to protect themselves against crime is "the wrong message to be sending to our citizenry," said Councilman Fred Shorett. "I'm an NRA member and a hunter, but I don't think it's our place to be publicly suggesting people lock and load."
The term "lock and load" was popularized by John Wayne in the movie "Sands of Iwo Jima" and refers to the M1 Garand, the standard issue rifle during World War II.
This article was posted: Wednesday, December 5, 2012 at 11:56 am
---
---
Print this page.
---
---
Infowars.com Videos:
Comment on this article