Zero Hedge
August 5, 2019
Remember a week ago – smooth sailing, record highs, goldilocks, Fed, not a care in the world. And then…
… China unexpectedly allowed the yuan to devalue dramatically in retaliation to Trump's latest tariff hike…
And all hell broke loose…
… as Chinese stocks closed at their lows…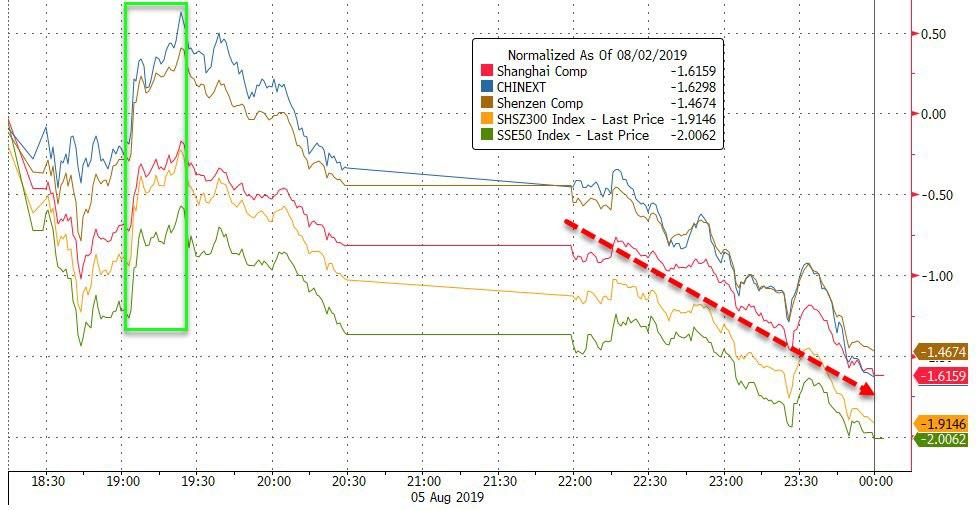 Elsewhere in Asia, Hong Kong Dollar forwards plunged to a level that suggests a peg breach within 12 months…
This wasn't lost on Hong Kong stocks which amid violent protests, tear gas, a crippling strike  and the threat of an imminent Chinese invasion, tumbled 3%, erasing the year's gains, and suffering the longest losing streak since 1997.
European stocks were also hammered – their biggest two-day drop in thee years – playing catch down to US markets from Friday and extending Friday's biggest losses of 2019…
German DAX broke to its 200DMA…
German Bund yields crashed to new record lows -53.6bps!!!
But Germany is not alone…
Since Powell started speaking (and Trump's tariffs), bonds and bullion are well bid, the USD is marginally weaker and stocks are a bloodbath…
US equities collapsed today – worst day of the year – with the S&P dropping over 3%, its worst drop since December 2018 before recouping some losses.
… while the Dow briefly dropped almost 1000 points, the third biggest point drop in history.
… and all sectors tumbling although homebuilders were the best of the worst:
Nasdaq is down six days in a row – its longest losing streak since before Trump was elected (Oct 2016)
Technical Support was blasted – Small Caps, Trannies <200DMA and S&P, Dow, Nasdaq <100DMA
FANG Stocks were slammed (not helped by the 8th straight down day for AMZN)…
AAPL plunged on the day, now down 13% from earnings night highs…
VIX hit 23 (doubled off its 11 handle from just over a week ago)…
And credit spreads blew wider…
Treasury yields collapsed to fresh cycle lows…
10Y Yields are back below Trump election lows, sliding as low as 1.72%, less than 30bps from all time lows…
The 3 Month-10 Year yield curve collapsed to its most inverted this cycle (most inverted since 2008)
Despite the crash in the yuan, the dollar also slipped lower, holding at pre-Powell levels…
The carnage also swept across developing markets, with the EM FX plunging to 11 month lows…
The safe haven today – in addition to Treasurys – bitcoin and other cryptos which were aggressively bid over the weekend amid the chaos in China and Hong Kong…
Pushing Bitcoin up near $12,000…
Copper and Crude lagged as PMs rallied on the day…
WTI extended losses from last week…
And gold soared on the day, despite "their" best efforts to crack into the London Fix…
Indeed, as some pointed out, in addition to soaring cryptos, silver and especially gold did just fine…
… and gold has now overtaken the S&P 500 year-to-date…
Gold in Yuan has exploded higher…
And gold in pounds remains at a new record high…
Bitcoin and Bullion are bouncing back up to the "policy-maker-idiocy indicator" as negative-yielding debt keeps soaring…
Finally, stocks have a long way to fall yet to catch down to bonds' reality…
If and when that happens…
This article was posted: Tuesday, August 6, 2019 at 2:18 am
---
---
Print this page.
---
---
Infowars.com Videos: