Prison Planet.tv
Wednesday, June 1, 2011
We have added several exclusive bombshell video interviews for subscribers at Prison Planet.tv – with more to come. Check out the trailers for these new presentations below and consider becoming a member at Prison Planet.tv.
The Secret History of Western Education – The Scientific Destruction of Minds
Part One of our exclusive interview with Charlotte Iserbyt breaks down how conditioning/training under a corporate agenda has replaced traditional education, leading to a deliberate dumbing down of Americans. Iserbyt further explains how Reagan signed agreements merging the U.S. and Soviet systems under the United Nations banner, turning over education and many other areas of public policy to global control.
In Part Two, coming soon for Prison Planet.tv members, Charlotte Iserbyt will unveil the connection of her father and grandfather to the elite Skull & Bones secret society, including an exclusive look at the official members list the public was never meant to see. Iserbyt also explores the research of Anthony Sutton and others who've made the connection between Skull & Bones, the Illuminati and experimental psychology from Germany that has been injected into the American education system since the late 1800s. Also in play is the elite's control of the Left-Right political paradigm, infiltration of key policy groups and backing from globalist foundations that have threatened to undermine the American way for the better part of a century.
Following a successful anti-fluoride campaign in Canada, Dr. Paul Connett, Professor of Chemistry at St. Lawrence University in New York, visited the Infowars.com command center in Austin, Texas, to make appearance on the Alex Jones Show and tape "Deadly Fluoride: Hoax on the Run!"
Fluoride Hoax Exploding: Alex Jones Interviews Dr. Paul Connett
A d v e r t i s e m e n t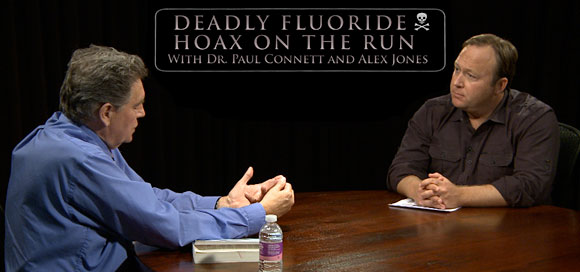 Connett was in town to make an appearance before the Austin City Council and argue in favor of eliminating the dangerous neurotoxin for Austin's water.
During the interview with Alex Jones, Dr. Connett presented in concise fashion overwhelming evidence of the health risks posed by water and food fluoridation.
The States Strike Back
In this special video presentation for Prison Planet.tv members filmed from the new Infowars television studio, Alex Jones hosts a round table discussion featuring Oath Keepers founder Stewart Rhodes, founder and executive director of the Tenth Amendment Center Michael Boldin, as well as activist and economic writer Brandon Smith of Alt-Market, to discuss the states' rights movement and how Americans need to organize now to take back power usurped in a myriad of different ways by the federal government.
Rhodes explains how history tells us that tyranny can never be enforced without the aid of uniformed military and police, highlighting the case of East Germany where troops were told to stand down and two days later the Berlin wall fell. Rhodes documents how the implementation of a totalitarian infrastructure in the United States has led to the President having supreme power to assassinate US citizens by declaring them "enemy combatants" and how this sets an ominous benchmark for the level of power that has been accumulated by the executive branch of government.
Coming Tomorrow: Webster Tarpley & Elite's Plan for Global Extermination
This is the trailer for the upcoming PrisonPlanet.tv exclusive interview with Dr. Webster Tarpley. In this interview, Dr. Tarpley reviews the writings of John P. Holdren, the current White House science advisor. This interview conclusively exposes scientific elite's true agenda, world-wide genocide and the formation of a global government to rule.
Click here to subscribe to Prison Planet.tv and get exclusive access to this interview along with a mountain of other special video interviews and reports, as well as daily high quality video and audio archives for the Alex Jones Show , in addition to the live in studio video stream.
This article was posted: Wednesday, June 1, 2011 at 10:05 am
---
---
Print this page.
---
---
Infowars.com Videos:
Comment on this article