Kurt Nimmo
Prison Planet.com
December 7, 2012

You can usually count on ill-informed and clueless Americans to defend the global elite as it thrashes about attacking small nations and engaging in economic warfare under the frayed banner of the United States.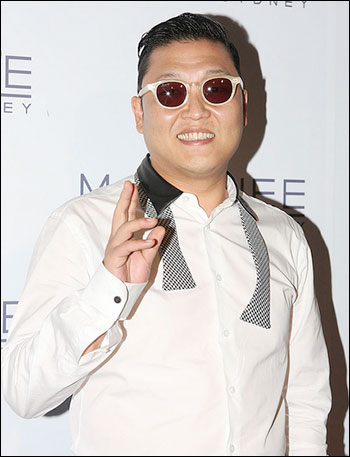 Photo: Eva Rinaldi.
The most recent example: outrage against Korean pop star PSY, real name Park Jae-sang.
The outrage arrives following news that PSY's "Gangnam Style" has surpassed Justin Bieber's "Baby" to become the most-watched YouTube video of all time. It hit more than 815 million views since it was uploaded to YouTube on July 15, according to Yahoo News.
It seems Mr. PSY made the mistake of criticizing U.S. foreign policy and the mindless consumers of pop entertainment in the United States have taken umbrage.
In response to the apparently endless stationing of troops in South Korea, PSY smashed a toy tank during a show back in 2002. According to Mediaite, the antic was performed following the death of two Korean school girls who were run over by an American tank in South Korea. After two U.S. soldiers were acquitted of any wrongdoing by a military court, protests erupted across the country.
In 2004, a Korean missionary was beheaded in Iraq by fanatical Sunni Islamists demanding South Korea not send troops to help the U.S. occupy the country. Protests erupted in South Korea blaming the U.S. military for indirectly causing the incident.
During a protest concert, PSY rapped the following:
Kill those f—— Yankees who have been torturing Iraqi captives
Kill those f—— Yankees who ordered them to torture
Kill their daughters, mothers, daughters-in-law and fathers
Kill them all slowly and painfully
Over the top? You bet. But then that's how pop icons often get mileage. Is it any different from Lady Gaga's blood and semen perfume stunt?
PSY is scheduled to appear at Obama's "Christmas in Washington" event, but this may not happen if a petition making the rounds is successful.
"We request President Obama rescind his invitation to the Gangnam Style rapper PSY to perform for him at the Christmas in Washington celebration this month because of the rapper's vicious anti-American song lyrics," a petition on the White House website complains.
"As commander-in-chief, how can Pres. Obama honor someone who calls for killing our troops and their families?"
Of course, it hardly occurs to the petitioners that Obama's foreign policy is largely responsible for killing thousands of troops in addition to countless innocent civilians in Afghanistan, Pakistan, and Yemen. Recent U.S. foreign policy is responsible for slaughtering over a million in Iraq.
Maybe there should be a petition protesting that?
Don't hold your breath.
The anti-war left is dead – and probably too busy signing the petition condemning the silly pop star PSY.
This article was posted: Friday, December 7, 2012 at 4:50 pm
---
---
Print this page.
---
---
Infowars.com Videos:
Comment on this article