Students completely brainwashed into thinking guns are bad
Adan Salazar
Prison Planet.com
Oct. 4, 2013
While some schools across the nation have moved to arm teachers in order to deter potential gunmen, an Arizona elementary school is taking a "vastly different" approach.
In yet another sterling example of how the establishment has successfully brainwashed Americans into fearing firearms, a Coolidge, Ariz., police officer was asked not to wear his uniform when dropping off his daughter at school due to parents' concerns over his gun.
Officer Scott Urkov was dropping his daughter off at the Entz Elementary School in Mesa when a student apparently saw his gun. The child later told his parents he had seen "a man at school with a gun," prompting the parents to phone the school.
"There were some parents who were concerned about the fact that there was a fully armed officer on campus and they spoke to the principal about it," Helen Hollands, spokesperson for Mesa Unified School District, told My Fox Phoenix.
The principal reportedly approached Officer Urkov requesting he not wear his uniform the next time he visited the school.
A d v e r t i s e m e n t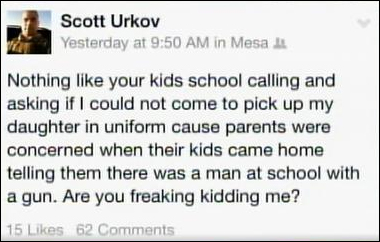 Officer Urkov vented his frustration on Facebook, saying "Nothing like your kids school calling and asking if I could not come to pick up my daughter in uniform cause parents were concerned when their kids came home telling them there was a man at school with a gun. Are you freaking kidding me?"
Now parents are siding with the officer and asking whose idea it was to prevent an officer of the law from wearing the uniform meant to symbolize that he serves and protects the public.
"Well I was a little surprised… I think that it's his right to wear that in public," one parent said, oblivious to Arizona's open-carry laws. "Even if my kids saw that, I think they'd feel more protected to see a man in uniform at their school."
The school says they didn't mean to offend him and that he "took the discussion the wrong way, perhaps."
They're trying to smooth things over with the officer by inviting him back to the school, in full uniform, to talk to students about his profession.
This is just one of a plethora of examples demonstrating how Americans, especially young Americans, are being brainwashed to think of guns as the tools of criminals, and is a testament to how the orchestrated campaign to demonize firearms is working wonderfully.
Earlier this week, we documented the rash of children being arrested for thought crimes, including an instance in which an eight-year-old child who was suspended from a Florida elementary school for forming his hand into a gun shape.
The Mesa Unified School District's overreaction to the officers' firearm falls in line with anti-gun rhetoric the current Justice Department head Eric Holder spewed in 1995, when he told attendants at the Woman's National Democratic Club they had to "really brainwash people into thinking about guns in a vastly different way."
"What we need to do is change the way in which people think about guns, especially young people, and make it something that's not cool, that it's not acceptable, it's not hip to carry a gun anymore, in the way in which we changed our attitudes about cigarettes," Holder stated.
This article was posted: Friday, October 4, 2013 at 3:07 pm
Tags: constitution, gun rights
---
---
Print this page.
---
---
Infowars.com Videos: