Says it "does not ensure our most basic rights as American citizens are protected"
Adan Salazar
Prison Planet.com
December 21, 2013
Texas Senator Ted Cruz was one of a handful of legislators who took a stand against the renewal of the National Defense Reauthorization Act this week by refusing to sign onto the legislation, which Cruz says still contains wording allowing President Obama to indefinitely detain U.S. citizens absent of due process.
"Just voted against NDAA because it does not ensure our most basic rights as American citizens are protected," Cruz tweeted Thursday evening.
The legislation passed the Senate in an 84-15 vote late last Thursday night and "clears the Pentagon to spend $607 billion, including $527 billion in base funding and $80 billion for America's global operations," reports Defense News.
According to Cruz, the bill contains many provisions he supports and even introduced, including provisions requiring "an independent investigation into reports of religious discrimination against troops sharing their faith," and one insisting on "Improved assistance for widows of troops killed in combat."
However, the embattled senator, who earlier this year helped defeat an assault on gun rights and staged a 21-hour filibuster against the president's namesake healthcare law, also stated in a press release that attempts to amend the bill for the betterment of due process rights were blocked.
Cruz said in a Facebook post Thursday:
Today I voted against the National Defense Authorization Act. I am deeply concerned that Congress still has not prohibited President Obama's ability to indefinitely detain U.S. citizens arrested on American soil without trial or due process.

The Constitution does not allow President Obama, or any President, to apprehend an American citizen, arrested on U.S. soil, and detain these citizens indefinitely without a trial. When I ran for office, I promised the people of Texas I would oppose any National Defense Authorization Act that did not explicitly prohibit the indefinite detention of U.S. citizens. Although this legislation does contain several positive provisions that I support, it does not ensure our most basic rights as American citizens are protected.

I hope that next year the Senate and the House can come together in a bipartisan way to recognize the importance of our constitutional rights even in the face of ongoing terrorist threats and national security challenges. I look forward to working with my colleagues on the Senate Armed Services Committee toward this common goal.
Last July, the U.S. Court of Appeals for the Second Circuit overturned a September 2012 decision made by U.S. District Court Judge Katherine B. Forrest which ruled that Section 1021 of the 2012 NDAA bill, the section authorizing the indefinite detention of U.S. citizens, was unconstitutional. However, in less than 24 hours the Obama administration appealed the ruling.
Joe Wolverton, II, J.D., writing for The New American, says the 2014 version of the bill additionally contains "frightening" provisions strengthening government surveillance powers under the Patriot Act, and will also "establish a center to be known as the 'Conflict Records Research Center,'" whose goal it would be to compile a "digital research database including translations and to facilitate research and analysis of records captured from countries, organizations, and individuals, now or once hostile to the United States."
"…[T]here is in the NDAA for 2014 a frightening fusion of the federal government's constant surveillance of innocent Americans and the assistance it will give to justifying the indefinite detention of anyone labeled an enemy of the regime," Wolverton writes.
The website Activist Post published a list of the Senators who voted for and against the 2014 NDAA: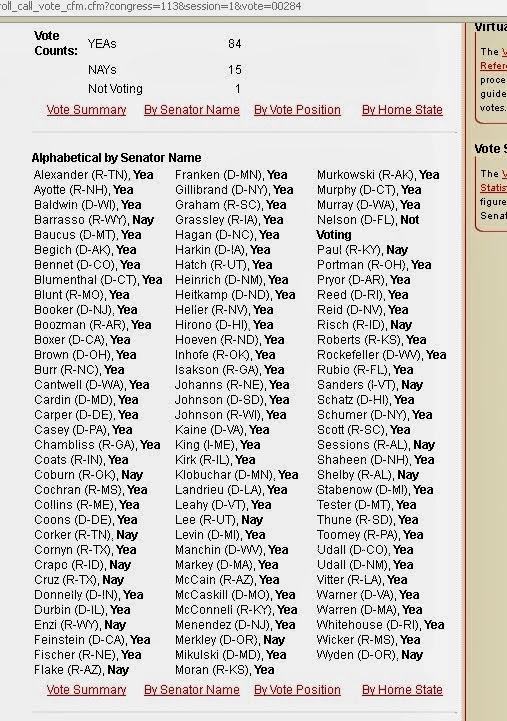 This article was posted: Saturday, December 21, 2013 at 3:11 pm
---
---
Print this page.
---
---
Infowars.com Videos: