PrisonPlanet.com
February 8, 2013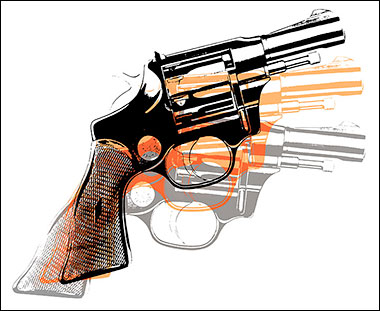 Artwork by Andy Warhol. Prior to California announcing a plan to introduce gun registration and confiscation on Thursday, Democrats in Colorado said they will introduce legislation that will hold gun manufacturers liable for crimes committed with guns they have sold.
In addition to holding manufacturers liable, the law would hold retail sellers of firearms responsible. Democrats are pushing to have a federal law that conflicts with their proposed legislation overturned.
Democrats did a media promenade with "gun violence survivors" from the Columbine, Aurora and Sandy Hook shootings to push their agenda, according to Fox News.
The legislation ties "gun violence" to mental health issues and calls for background checks for private gun sales. It also outlaws high-capacity magazines.
Republicans were quick to criticize the proposed legislation.
"This is the most aggressive anti-gun legislation ever floated in the country," Republican Sen. Greg Brophy said. "To hold everybody in the entire chain of possession responsible for a crime committed by one person? The manufacturer, dealer and owners? That's equivalent to blaming Coors for a drunk driver and the 7-Eleven after someone steals a 12-pack."
Moreover, Republicans claim Democrats will use the law to effectively ban firearm possession because it will discourage gun manufacturers and retailers from doing business in the state.
This article was posted: Friday, February 8, 2013 at 12:55 pm
---
---
Print this page.
---
---
Infowars.com Videos:
Comment on this article