Zero Hedge
November 28, 2019
More details are emerging after a massive chemical explosion at a southeast Texas refinery in the early hours of Wednesday ripped through the plant and shattered windows across nearby residential areas of Port Neches, which lies about 90 miles east of Houston. People in homes that are miles away from the blast site reported windows, doors, and rooftops being blown out by the initial shock wave from the blast. 
All residents within a half mile of the burning chemical plant have been issued a mandatory evacuation order, and so far plant operator TPC said its more than 175 full-time employees and 50 contractors are all accounted for, though a handful were transported to the hospital for burns and other injuries, at least one in serious condition.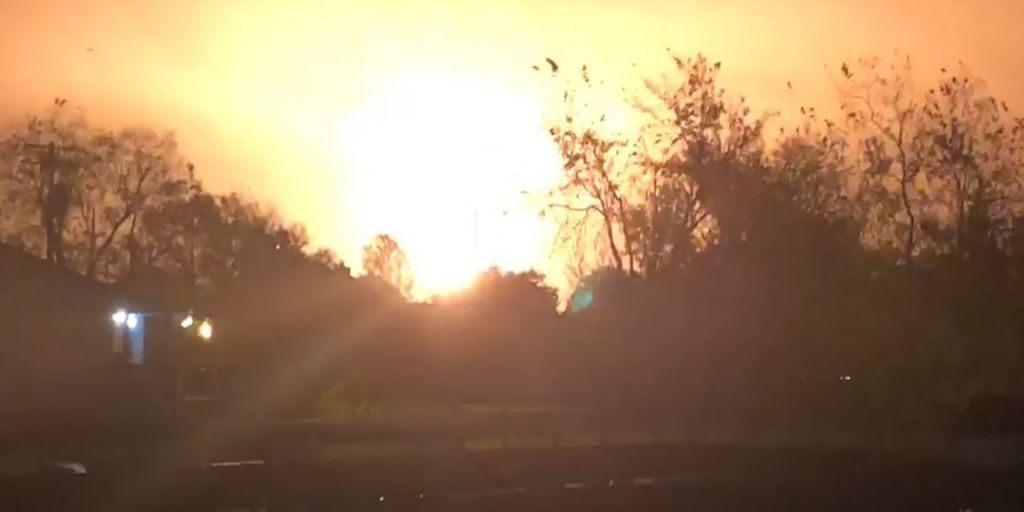 Some of the eyewitness accounts of the chemical explosion collected by NBC News convey at atmosphere of confusion when the first blast occurred at about 1am, resulting in a blaze that overtook much of the plant.
Currently the emergency is considered "ongoing" but response crews say they will soon bring it under control.
"Their doors were blown open… doorknobs themselves were shot across rooms," one resident said. "We didn't know what had exploded and what gasses were in the air," the woman said, and described a panic scramble of nearby residents to flee the area: "I've never seen the traffic like that ever."
And another eyewitness identified as Omar Hamza described a "loud boom" and "bright flash" which was followed by a deafening explosion.
"We waited for a little bit and we kind of looked outside and everyone was running around and freaking out." He continued, "So we just grabbed the important stuff we needed — I left a note on the door and we left."
Jefferson County Judge Jeff Branick, who lives within the evacuation zone, described an apocalyptic scene where he initially thought they were under attack:
Branick, who lives less than a mile away from the explosion site, said his wife thought someone was shooting at their home when she heard the blast.

"I ran out with my pistol," the judge said, before he realized it was a refinery explosion.

Texas has been the site of other major explosions, including a 2013 fertilizer plant blast in the rural town of West that killed 15 people and wiped out hundreds of homes.
Port Neches has a population of about 13,000 and it's currently unknown how much dangerous gas and chemicals were released into the air. Fires are still raging at the site.
One chemical which scientists and emergency responders have identified is Butadiene, considered a likely carcinogen to humans.
"The refinery had butadiene, one of the constituent ingredients in synthetic rubbers, Branick said, as well as C4, a petrochemical raw material," according to NBC.
This article was posted: Thursday, November 28, 2019 at 3:41 am
---
---
Print this page.
---
---
Infowars.com Videos: