Breitbart
September 11, 2019
"Abolish ICE Denver," a far-left activist outfit based in Colorado, is urging its supporters on Facebook to protest outside the personal home of the warden of a privately-owned Immigration and Customs Enforcement (ICE) center in Aurora, Colorado.
The group posted an assembly location in a residential area of Aurora, Colorado, in an image on Facebook, which has yet to take the post down. The social network's community guidelines lists the unsolicited posting of "personally identifiable information" as a violation of both its harassment and privacy policies.
"You should not post personal or confidential information about others without first getting their consent," according to Facebook's community guidelines. The posting of "private phone numbers or addresses" is specifically prohibited.
Responding to a comment request from Breitbart News, a Facebook spokeswoman said the assembly location posted by Abolish ICE Denver did not contain a private residential address and therefore did not violate the platform's policies. The address is for a community center in the warden's neighborhood.
"Should additional content be shared that includes private contact information, we will remove as soon as we identify it," said the Facebook spokeswoman.
In its post, Abolish ICE Denver described the Aurora, Colorado, processing center as a "concentration camp" that is involved in "neglect and torture." The center is operated by GEO Group, and its warden, whose home the protesters plan to harass, is named Johnny Choate.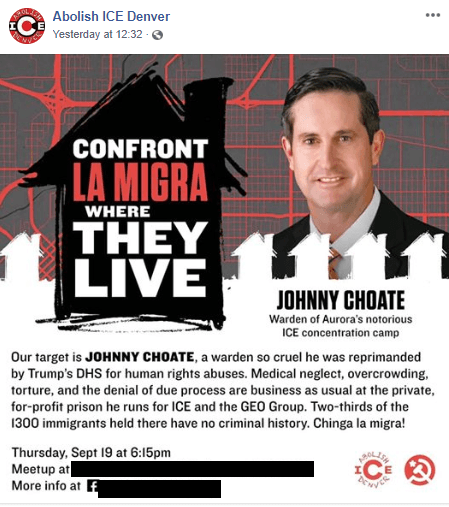 This article was posted: Wednesday, September 11, 2019 at 4:08 am
---
---
Print this page.
---
---
Infowars.com Videos: