Youtube
Aug 18, 2010
The campaign to inform the public about the toxic chemical fluoride being added to tap water across the country is in full swing. While EPA scientists and workers are calling for an end to water fluoridation, the government is doing everything in its power to continue and even increase the amount of toxic chemicals being added to public water supplies.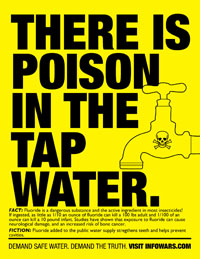 Click for Large PDF
Having A Supply Of Healthy Foods That Last Just Makes Sense
This article was posted: Wednesday, August 18, 2010 at 3:24 am
---
---
Print this page.
---
---
Infowars.com Videos:
Comment on this article