Lab-created artificial species will outnumber natural life 50-to-1, financial firm claims
Aaron Dykes
Prisonplanet.com
June 20, 2012
RELATED: Genetic Genocide: Humanity's Greatest Threat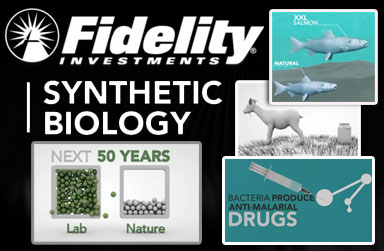 Biotech and other emerging technology is jeopardizing the future of the human race.
In its latest effort, Fidelity Investments is aiming to drive billions of dollars of global finance capital into the emerging field of "synthetic biology", using promotions and social media (as in its "Follow the Green Line" ad campaign) to raise interest. Fidelity is also trying to take on water shortage issues, "personalized medicine" and has partnered with the TED Talks (along with dozens of other firms) that have become a self-proclaimed authority on where technology is going. For Fidelity, it is part of an effort to bolster the firm's image as responsible and innovative. But is it?
Just as big money has backed carbon credit schemes and green technology, Fidelity is making a push to back 'synthetic biology,' which it says could be the "defining technology of the 21st Century," though admittedly it is still in the 'experimental phase'. In essence, synthetic biology is just another buzz term for what has already become the very controversial and dangerous field of biotech & genetic engineering.
For example, scientists have shown that genetically-engineered salmon– hailed below in Fidelity's promo video as a milestone in innovation– could wipe out the less aggressive natural salmon population within 40 generations. Fidelity also touts the use of GM bacteria to produce new malaria vaccines– part of the larger emerging field of "pharming," or growing pharmaceutical products inside genetically-modified crops, animals, and microorganisms. For all its potential promises, GMOs have instead been linked with organ failure, infertility and reproductive problems, as well as widespread environmental impact.
Ignoring all these known risks, Fidelity's ThinkBig webpage brags about their part in the attempt to redesign life with man-made architecture, claiming that labs could soon create 50 times the number of naturally-occurring species known to exist on the planet. And clearly that means big cash. GMO foods have been the first bounty of this technology, but the other applications are widespread, including energy, computing, organ replacements and much more. Fidelity boasts in part:
Synthetic Biologists collaborate around the world, using over 5,000 DNA sequences, called BioBricks™, now available online in an open-source database. Crowdsourcing the work means experiments that used to take years now take weeks, constantly redefining what's possible.
Encouraging a race to create artificial life forms means less time in thinking out the potential consequences. The risks could well include endangering the survival of natural life (including humans), and would likely also prove costly for populations already vulnerable to market schemes.
Cross-species, xenotransplantation, human-animal hybrids and chimera creations all pose threats to DNA and organ receptors in ways scientists are only beginning to fully understand, while mixed genes open up new dangers of disease vulnerability between species previously not affected. This Brave New World of engineered creations, clearly, could pose instead a genetic armageddon. Alex Jones has repeatedly warned about the Trojan Horse bioweapon capabilities of much of this technology, as well as other widely used chemical compounds found throughout our food, water and environment.
Genetic Armageddon: Humanity's Greatest Threat
Does this amount to "hacking biology" or what Alex Jones has often termed genetic vandalism? Thomas H. Murray, President of The Hastings Center gives a lecture discussing the ethical issues of creating new forms of life under the synthetic biology umbrella. This has been going on since the first recombinant DNA research began in the early 1970s, he indicates at some 13:40 minutes into the presentation. At least Murray considers the consequences, but in reality, the research field is moving forward with little concern for caution.
Apart from the risks to life itself, what finance capitol is funding is a new era of lucrative patent dominance in the realm of biology that will likely only embolden the existing oligopolies in Big Agra and Big Pharma, all while making the costs of staying alive greater to bear. "Intellectual property" issues are already plaguing traditional farmers in many parts of the world, as they clash with Monsanto's seed monopoly. But this will also manifest in the future markets of human replacement organs grown in pigs, gene therapy, IVF and other assisted fertility, as well as many other areas. Already, claims of copyrighted human genes is occurring and impacting health care costs. Spider goats and human breast milk produced by cows are just some of the most widely publicized forms of this emerging technology front where natural sources are displaced by patented, costly and potentially dangerous GMO alternatives.
Meanwhile, the Transhumanist movement, today lead by iconic futurist Ray Kurzweil, is openly trying to re-engineer and replace the human species by merging individuals with technology– A.I., avatars, nano-tech, cloud-computing based memory banks and much more. Alex Jones' Endgame breaks down much of this agenda.
The same science cultists who previously thought 96% of human DNA was "junk" are now playing god, assuming they can wield new life forms for human betterment. From it, the potential for financial & environmental harm, as well as predatory occupation from monopoly/oligopoly sectors is immense.
This article was posted: Wednesday, June 20, 2012 at 2:18 am
---
---
Print this page.
---
---
Infowars.com Videos:
Comment on this article