Full 27-Hour Money Bomb Special Now Available

For Prison Planet.tv Subscribers!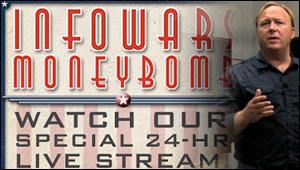 The jam-packed 27-hour Money Bomb special featuring never before seen interviews with Paul Craig Roberts, Katherine Austin Fitts, Lord Christopher Monckton, Sherri Tenpenny, Jeffrey Smith, Rev. Clenard Childress, Alan Watt, and others is now available for Prison Planet.tv subscribers for download. In addition, the marathon show features a number of live guests, including Max Keiser, Gerald Celente, Webster Tarpley, and Paul Craig Roberts. Alex welcomes back the show former CNN host Lou Dobbs and New World Order researcher Alan Watt.
Continuing the money bomb marathon, Alex talks to Paul Craig Roberts about the crumbling state of the US economy. In the final two hours, Prison Planet editor Paul Joseph Watson fills in for Alex and welcomes economist Bob Chapman to talk about foreclosure-gate, the Obama administration's efforts to seize private pensions, as well as austerity riots, gold and more.
Many people who viewed the continuous 27-hour stream said these were some of the best interviews ever seen! Get access to the entire 27-hour archive right now!
Please make a donation on the Infowars Moneybomb page to help us reach our $500k target.
PLEASE LOGIN AT http://prisonplanet.tv/ AND NAVIGATE TO THE ALEX JONES LIVE PAGE to watch the 7-part Money Bomb Special!
Not a subscriber or your subscription has expired? Click here to sign up again and express your support for alternative media while getting instant access to 27 hours of monumental multimedia!