Officer is excused for shooting boy seven times
Prison Planet.com
October 29, 2013
Gun control activists in California are blaming toy guns and airsoft guns for the fatal police shooting of a 13-year-old on Oct. 23, shifting responsibility away from the police. [caption id="attachment_89609" align="alignright" width="380"]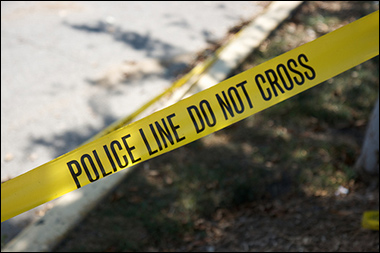 Police tape surrounded the scene of the shooting.
Credit: Marcin Wichary via Flickr[/caption] Andy Lopez Cruz was shot seven times in 10 seconds by a Sonoma Co., Calif. sheriff's deputy as he walked down the street with a plastic replica rifle. Laura Cataletta, an attorney with a gun control group, told KPBS that police have a hard enough job "without also having to also be able to quickly determine whether a gun is real or not real." California already requires toy guns to be painted in bright colors or made transparent. State Senator Kevin de León (D-Los Angeles) is introducing a bill that would extend that regulation to BB and pellet guns as well. "These guns don't belong on the street," Karen Caves, de León's spokesperson, said to Time. "They endanger children and they endanger police … You can simply paint them some bright fluorescent colors that will give police an opportunity to easily identify them for what they really are and avoid this type of tragedy." Cruz's family and friends, on the contrary, said that the deputy who killed Cruz simply overreacted to a situation which did not require the use of deadly force. "People have to do something," Elbert Howard, a founding member of the Police Accountability Clinic and Helpline of Sonoma Co., said to Reuters. "He's a child and he had a toy." "I see that as an overreaction to shoot him down." Unfortunately police overreactions occur all the time. In North Carolina in Sept., a police officer shot an unarmed victim of a car accident 10 times after he sought help at a nearby house. A month earlier, a young Blount Co., Tenn. deputy sheriff shot a 68-year-old Air Force vet in his own garage. Back in May, two Ft. Worth, Texas police officers said they "felt threatened" when they gunned down a 72-year-old man in his own drive-way. Across America, police overreaction and abuse of deadly force are the prevalent issues at hand, not replica guns meant for ages 10 and up.
This article was posted: Tuesday, October 29, 2013 at 4:50 pm
Tags: constitution, domestic news, gun rights, police state
---
---
Print this page.
---
---
Infowars.com Videos: