Texans draw their line in the sand
Adan Salazar
Prison Planet.com
October 19, 2013
In an inspiring indication that freedom is still somewhat alive in America, a large gathering of gun rights advocates staged a peaceful open carry rally and march outside the steps of the Alamo in San Antonio, Texas, today.
The "Come and Take It San Antonio!" rally, organized by a coalition of gun rights groups, brought together young and old, and people from all walks of life to draw a "line in the sand at the Alamo," the famed fort of Texas lore representing the battle between Mexican general Santa Anna's army and the Texian forces who fought valiantly, but ultimately lost as they were drastically outnumbered.
In the spirit of those brave souls, gun owners took up their long arms today (open carry of standard pistols is prohibited throughout Texas) and marched, not only to exercise the rights to free speech and assembly, and the rights to self defense and gun ownership, but to contest what one digital flyer identified as the "San Antonio Police Department policy of harassing law abiding citizens and gun owners."
"We can not stand by any longer in silence," the flyer states. "They have been left unchecked too long. Oct 19th we will stand under weight of arms and declare: 'THIS IS OUR LINE IN THE SAND!" We will stand as free men and women. And we will take back the right that Chief McManus believes he can revoke. Our right to keep and bear arms SHALL NOT BE INFRINGED!"
The rally went off peacefully as intended, in contrast to the liberal portrayal of gun owners collectively as psychotic, murderous hot heads who desire to incite violence at every turn.
Texas Land Commissioner Jerry Patterson, one of the hopefuls for the Lieutenant Governor's seat in 2014 and a supporter of the Second Amendment, was one of a handful of speakers at the event. Patterson told NBC the rally was largely a call for "the right of Texans to openly carry their pistols," as Texas is one of seven states that has outlawed the practice.
A d v e r t i s e m e n t
Syndicated radio host Alex Jones also attended the event and supplied encouraging words to rally participants and fellow defenders of freedom.
"I want to salute everybody who came out here in defiance of tyranny," Jones said, with a long rifle slung over his back. "Civilizations go one way or the other. You either become more free or you become enslaved. And there are only a few countries worldwide where you can still own firearms," Jones informed the crowd.
"Governments worldwide controlled by powerful anti-free market corporate interests, like Goldman Sachs, JP Morgan and others, have financed programs from Australia to France, from England to South Africa to disarm the people. Whether it was King George 235 years ago who wanted disarmed slaves, or whether it was Santa Anna 177 years ago, or whether it was Adolf Hitler or Mao Tse-Tung, these scumbags are all the same!" Jones proclaimed.
"They are bullies that think we're gonna lay down to them and lick their boots. I can assure you that if William Barrett Travis was here or the others that died at this sacred shrine were here, they would give us a rebel yell of liberty!" Jones said, fueled by the fire of freedom.
"I can assure you they knew full well they were gonna die, but they were so angry watching people tied up and shot in the back of the head all over Texas because they wouldn't turn their guns in, that they came down here to show an example of what you do in the face of tyrants!" Jones shouted. "And that's what you're doing here right now today!"
"To all the big megabanks, you don't run this country, you stole it by fraud and we've identified you and we're taking the republic back. God Bless You all," Jones concluded, undeterred by the loss of his voice following a few fierce battle yells.
Here are a few more photos of the event from Facebook: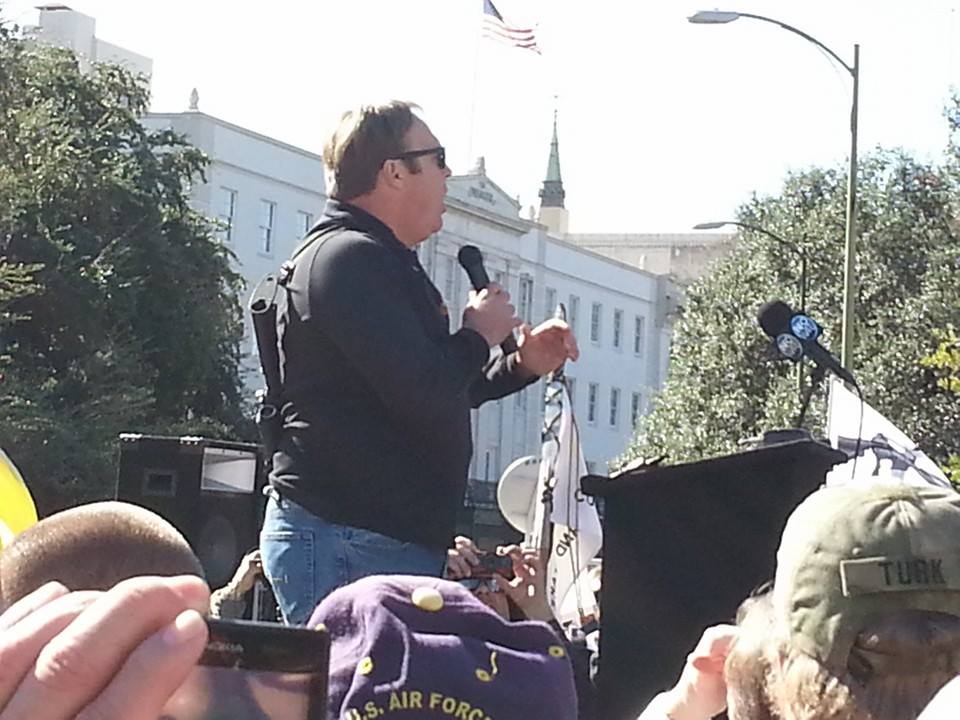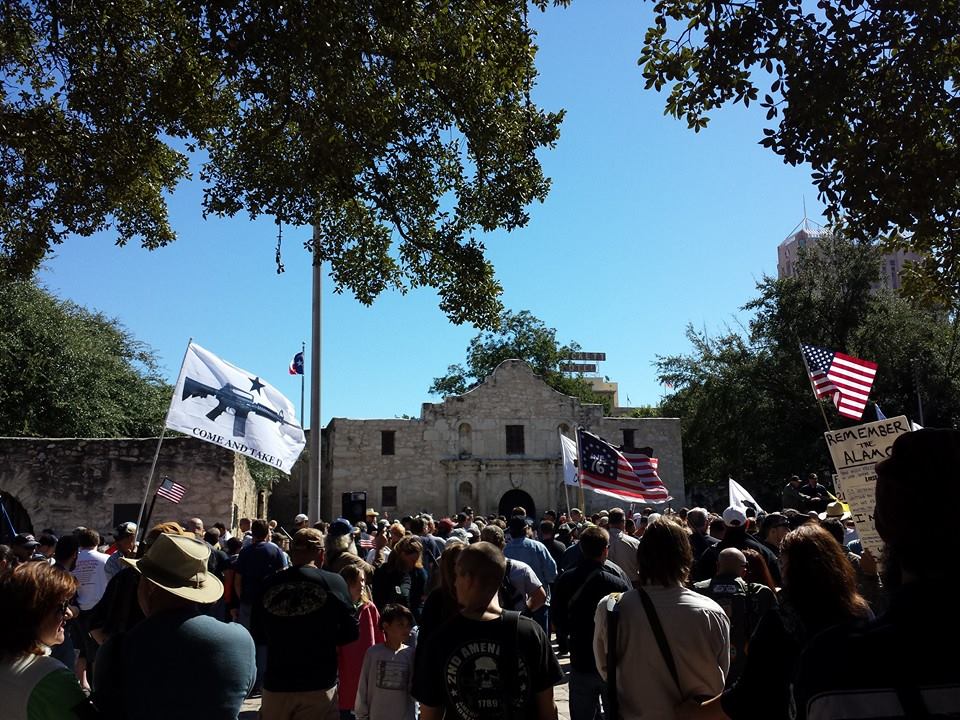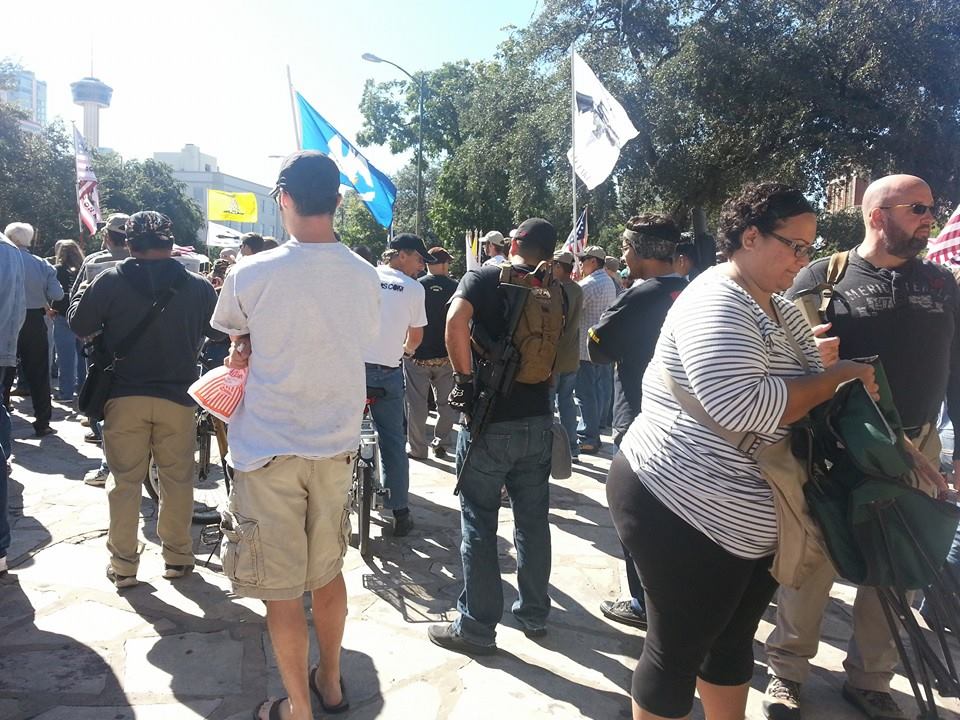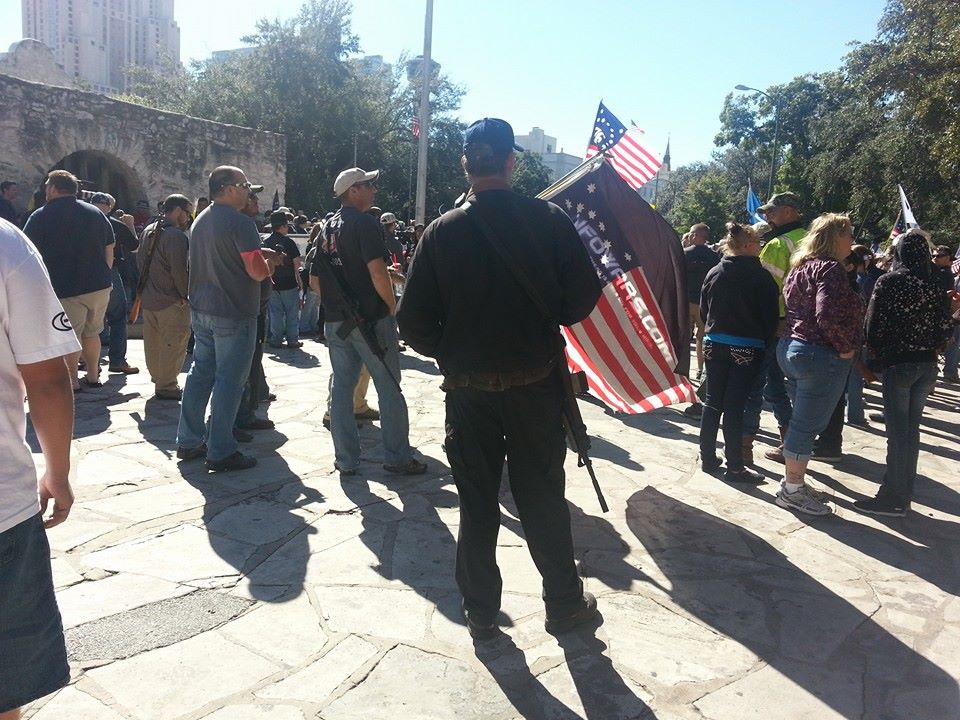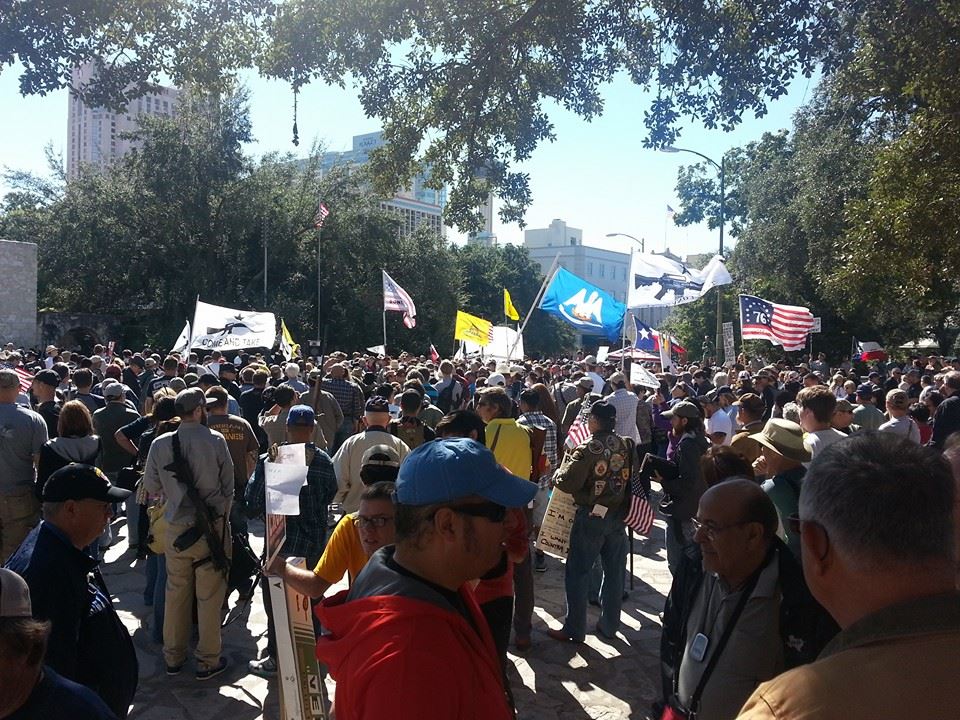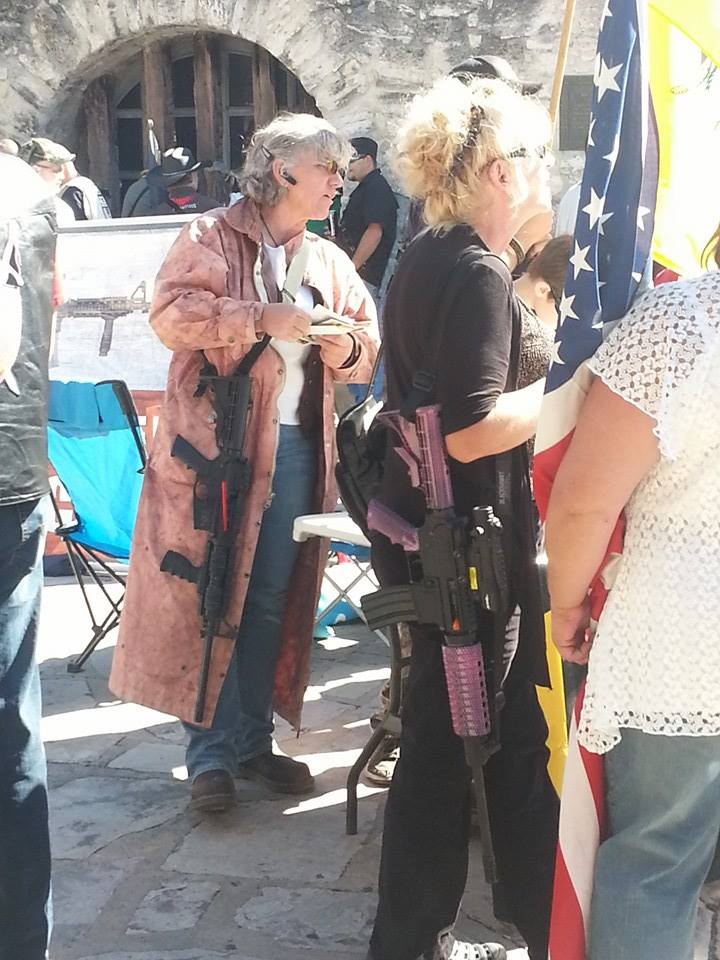 Alex also spoke with a World War II veteran who said he was there "to take a stand for our country and for freedom," and another vet from the Iraq and Afghanistan conflicts, Mario Lopez, who came out "because the Constitution is black and white that we have the right to bear arms."

This article was posted: Saturday, October 19, 2013 at 7:54 pm
Tags: activism, constitution, gun rights
---
---
Print this page.
---
---
Infowars.com Videos: