FBI maintains files to "memorialize controversial reporting"
Julie Wilson
Infowars.com
September 10, 2013

Despite the FBI's denial they were investigating Michael Hastings, newly released "heavily redacted" documents on the journalist prove otherwise. Al-Jazeera and FOIA research specialist, Ryan Shapiro, acquired the documents after he and journalist Jason Leopold filed a lawsuit against the FBI for neglecting to respond to their FOIA requests within the required 20 work day period.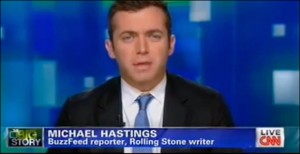 Hastings suspiciously died when his Mercedes C250 Coupe reportedly crashed into a palm tree traveling 75 mph in Los Angeles last June. Just fifteen hours before his death, the 33-year old sent an email to a handful of close friends revealing he believed the FBI was after him for a story he was working on.
A few days after his death, WikiLeaks tweeted that Hastings contacted WikiLeaks' lawyer Jennifer Robinson claiming the FBI was investigating him.
Prior to his death, Hastings was investigating CIA Director John Brennan and was set to release his report in Rolling Stone magazine in the following weeks. Infowars picked up a report from San Diego 6 News that cited a Stratfor email hacked by Wikileaks which described Brennan as being "behind the witch hunts of investigative journalists learning information from inside the beltway sources."
The FBI's investigation is so secret, even the title of the case file was withheld from the FOIA request. FBI documents reveal the agency considers Hastings' work to be "highly sensitive."
The FBI operated under exemptions when it redacted entire parts of the file, claiming it necessary to "protect national security." The agency reportedly marked parts with "S" for secret and "Per Army" to conceal components of the file.
The documents also reveal the FBI opened a file that contained "unclassified media articles" in June 2012 in order to "memorialize controversial reporting by Rolling Stone magazine on June 7, 2012."
Articles in the file included Hastings' report entitled "America's Last Prisoner of War," a story about a 27-year old US soldier who was captured by the Taliban in 2009 while on deployment in Afghanistan. The soldier, Bowe Bergdahl, is still believed to be in captivity, according to Al-Jazeera.
The documents prompted a response from Rolling Stone's managing editor, Will Dana, who admits he's "concerned" and doesn't understand the FBI's interest in Hastings' report.
FBI spokeswoman Laura Eimiller said on June 21, "At no time was Michael Hastings under investigation by the FBI." She stands by her statement claiming just because Hastings was referenced in an FBI file, does not mean he was the "subject" of an investigation.
A letter sent with the redacted documents said:
"A search of the FBI Headquarters electronic surveillance indices has been conducted, and no responsive record which indicates that Michael Hastings has ever been the target of electronic surveillance was located."
Click here for the FBI's redacted documents.
This article was posted: Tuesday, September 10, 2013 at 11:53 am
Tags: domestic news, government corruption, Mainstream Media
---
---
Print this page.
---
---
Infowars.com Videos: