Kurt Nimmo
Prison Planet.com
June 26, 2011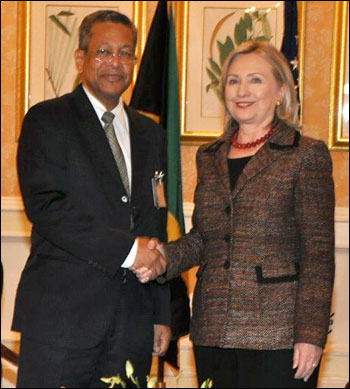 Clinton meets with Jamaican Foreign Minister, Dr. Kenneth Baugh. Photo: U.S. State Department.
It's another example that there isn't a lick of difference between the Obama Democrats and the Bush neocons. Both are warmongers determined to kick off the next world war.
On June 22, during press conference at the Ritz Carlton in Jamaica with that country's foreign minister and deputy prime minister, a reporter said Libya is looking "increasingly quagmire-like" and Obama's actions circumvented Congress (in addition to the Constitution, although the reporter did not say that).
"What is the – your vision for the endgame, a medium-term plan for U.S. involvement in Libya?" he asked.
Madame Clinton then channeled Bush and the neocons:
So I know we live in a hyper-information-centric world right now, and March seems like it's a decade ago, but by my calendar, it's only months. And in those months, we have seen an international coalition come together unprecedented between not only NATO, but Arab nations, the Arab League, and the United Nations. This is something that I don't think anyone could have predicted, but it is a very strong signal as to what the world expects to have happen, and I say with all respect that the Congress is certainly free to raise any questions or objections, and I'm sure I will hear that tomorrow when I testify.

But the bottom line is, whose side are you on? Are you on Qadhafi's side or are you on the side of the aspirations of the Libyan people and the international coalition that has been created to support them? For the Obama Administration, the answer to that question is very easy. (Emphasis added.)
In other words, you're either with us for the terrorists, as Bush declared during an address to a joint session of Congress on September 20, 2001.
You either support the bombing of children in Tripoli or you're with al-Qaeda (although not the version of al-Qaeda that works with the "rebels" supported by the U.S. and the NATO "coalition" of European warmongers).
(ARTICLE CONTINUES BELOW)
Stock up with Fresh Food that lasts with eFoodsDirect (AD)
Clinton sent a warning to critics of mass murder the same way Ari Fleischer sent one back on September 26, 2001, when he said Americans "have to watch what they say and watch what they do." Bush's press secretary made the threat after Bill Maher said the supposed September 11 hijackers were not cowards but that it was cowardly for the United States to launch cruise missiles on targets thousands of miles away.
Maher didn't say anything about 112 Tomahawk cruise missiles fired long distance at Libya by the U.S. He supports Obama's "humanitarian" bloodbath in Libya. It's okay when Democrats do it. No word if he agrees with Clinton that opposition to the unconstitutional war on the people of Libya is support for terrorism. Maybe he will threaten to deal with them the same way he threatened to deal with truth demonstrators in his audience.
Stock up with Fresh Food that lasts with eFoodsDirect (Ad)
Clinton's remarks remind us that there is scant difference between Democrats and Republicans. Republicans are now opposing Obama's so-called humanitarian intervention not because they are outraged by the slaughter of innocents and the brazen unconstitutionality of Obama's actions, but because he is a Democrat. Republicans didn't oppose Bush's murder of a million plus Iraqis.
This article was posted: Sunday, June 26, 2011 at 2:45 pm
---
---
Print this page.
---
---
Infowars.com Videos:
Comment on this article