Prisonplanet.com
July 23, 2010
An Infowars.com reader sent an email today informing us that our website is no longer available in Greek public libraries. "Prisonplanet.com is still accessible, but it's only a matter of time before the Greek censors notice attention has shifted to that website, and move in to ban it as well," she writes. "This isn't just a local library banning access to Infowars.com, but is a nationwide ban: the digital traffic filters, through which all traffic from and to Greek public libraries passes, are located in and controlled from Athens (National Technical University of Athens), so yes, THIS IS A NATION WIDE BAN!"
Attempting to reach Infowars.com from a Greek public library produces the screen below.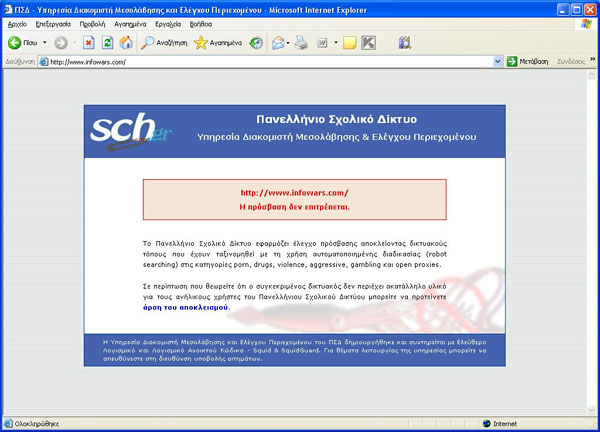 If Greek public library patrons want to protest to ban, they are out of luck. There is a page for this purpose, but it is only accessible to library workers with a special password and not library patrons.
Patrons and others outraged by this blatant effort to prevent access to Infowars.com in Greece should contact National Technical University of Athens, the institution responsible for providing libraries with internet connectivity:
National Technical University of Athens,
Network Management Center,
Heroon Polytechniou 9,
Zografou 157 80
email: [email protected]
tel: + 30 210 772 1865
Fax: + 30 210 772 1866
This article was posted: Friday, July 23, 2010 at 11:14 am
---
---
Print this page.
---
---
Infowars.com Videos:
Comment on this article