Donna Anderson
Prison Planet.com
November 12, 2012

Move over Barbie and Betsy Wetsy, there's a new doll in town. The Breast Milk Baby, wearing a pastel pink onesie and little knit cap, is cute, cuddly, and a huge hit in Europe. But American retailers are having a hard time warming up to a doll that burps, cries and makes suckling noises when held up to the breasts of little girls.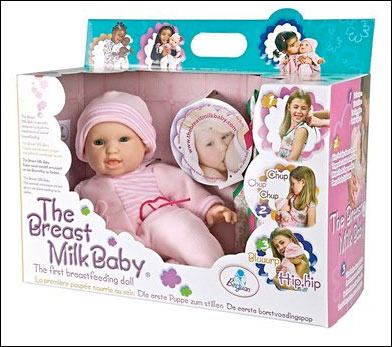 The breastfeeding dolls, Cuddly little Savannah, Tony, Cameron, Jessica, Lilyang, and Jeremiah, look like any other baby doll, available with a variety of skin tones and facial features, similar to the Cabbage Patch dolls which are making a comeback this year, with one difference: When raised to the breast, these dolls starts sucking.
Each Breast Milk Baby comes with a halter top for "mommy" to wear. Appropriately placed sensors sewn into the top activate the doll's sucking mechanism when the doll is raised to the child's breasts.
Breast Milk Baby is manufactured by Berjuan Toys, a 40-year-old family-owned doll maker in Spain. Their U.S. representative, Dennis Lewis, says they're having a hard time getting the doll onto American toy shelves, blaming lack of sales on American's phobia about breastfeeding.
"With retailers it's been hard, to be perfectly honest, but not so much because they've been against the products," he said. "It's more they've been very wary of the controversy. It's a product that you either love it or you hate it."
Stevanne Auerback, a child development expert in San Francisco who evaluates dolls and toys for consumers, loves the doll.
"We felt that it had merit in dealing with new babies for the older child," she said, "and for the curiosity that children have in this area. Breastfeeding in Europe is acceptable and the doll has been successful there. We wanted to open up the opportunity."
One reason they may be having such a hard time selling the doll here in America is because it comes with a hefty $89 price tag, a bit much for a doll, no matter what it does, so Berjuan Toys has listed the dolls at half-price on their website, just in time for Christmas.
Approximately 5,000 Breast Milk Babies have been sold in the US, but there are plenty of people who feel the doll is just plain creepy. Discussing the breastfeeding doll on his Fox News show, Bill O'Reilly said, "I just want the kids to be kids. And this kind of stuff .. We don't need this."
Sally Wendkos Olds, author of "The Complete Book of Breastfeeding," agrees the doll may be a bit expensive, but feels it's well worth the price.
"I think it's a very cute toy," she said. "I think it's just crazy what Bill O'Reilly was saying that it's sexualizing little girls. The whole point is that so many people in our society persist in sexualizing breastfeeding, where in so many other countries around the world they don't think anything of it."
Olds also says the little girls have been "mimicking the act of breastfeeding with their baby dolls for centuries" and compared Breast Milk Baby to Betsy Wetsy,
"Why do we need anything with bells and whistles? Why did we need a Betsy Wetsy? Children like toys that do things," Olds said, invoking one of the first drink and wet dolls created back in 1935. "So this doll makes noises. She burps, she cries, she sucks very noisily. Big deal."
When the doll first appeared on the market, child psychologist and Ph.D. Nava Stilton said, "A bottle — a boy can use and a girl can use and later on fathers can use a bottle to feed and so do mothers — both genders can appreciate the product. Whereas here it is focused on — much more catered to women and can serve as a confusing mechanism for boys.
Visit most mommy blogs and the doll gets a rousing round of applause, although most agree that the price tag is a bit too high, especially considering their children already pretend to breast feed all their other toys.
Some complain, though, that the doll isn't realistic at all because women have to lift up their shirts and expose the breast to breastfeed, not wear a cute little halter top adorned with daisies.
And taking the doll out in public? Well, that's another story. Lincoln Hoppe, father of five children who were all breastfed, says, "It's already hard to tell a child they can't take "that" toy with them to their sibling's soccer game. There may be a time and place for this doll, but I find the idea kind of creepy."
This article was posted: Monday, November 12, 2012 at 11:04 am
Tags: entertainment
---
---
Print this page.
---
---
Infowars.com Videos:
Comment on this article