PrisonPlanet.tv
August 11, 2011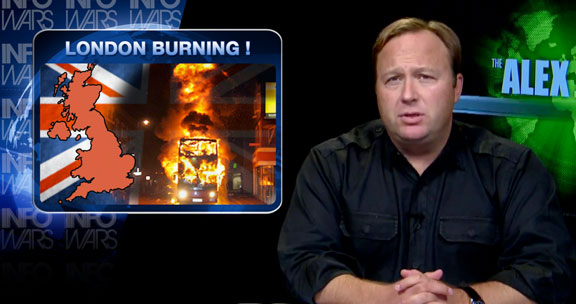 (AUG 10) Alex Jones' special broadcast that examines the manufactured police state created to rule over the widening economic depression. Alex speaks with financial expert Max Keiser and PrisonPlanet.com writer Paul Joseph Watson about the fallout into total social chaos and rising debt slavery, with emphasis on the still ongoing riots in London.
MEMBERS LOGIN & WATCH FIRST OR DOWNLOAD IN FULL
http://prisonplanet.tv/
PART 1/4: ALEX JONES

PART 2/4: ALEX JONES & MAX KEISER

A d v e r t i s e m e n t
PART 3/4: ALEX JONES & MAX KEISER

PART 4/4: ALEX JONES & PAUL JOSEPH WATSON

This article was posted: Thursday, August 11, 2011 at 3:46 am
---
---
Print this page.
---
---
Infowars.com Videos:
Comment on this article