Breitbart
March 15, 2019
A majority of Britons are against Members of Parliament voting for an extension of Article 50 in the House of Commons, according to a YouGov poll.
The snap poll conducted Thursday, the day after the Commons voted against leaving the EU without a deal, found that 43 per cent of Britons want MPs to vote against a delay, versus 38 per cent who back a Brexit delay.
"This is a notable turnaround in opinion since the end of last week, when half (49%) of Britons backed a deadline extension and only a third (34%) were against it," YouGov researchers noted.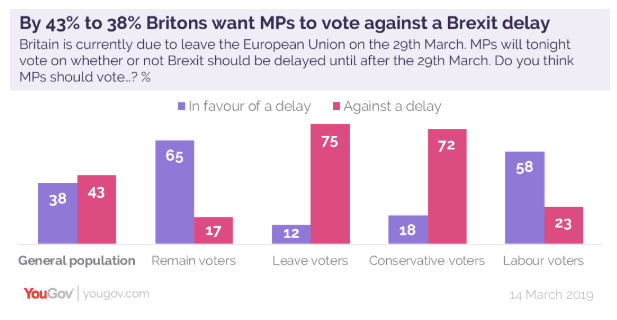 Amongst leave voters, the split is even sharper, with 75 per cent wanting their lawmakers to vote against Prime Minister Theresa May returning to Brussels to ask to extend Article 50, the legal mechanism for leaving the EU.
Conservative voters are also more disposed to reject a delay, 72 to 18 per cent. Labour voters (58 to 23 per cent) and Remainers (65 to 17 per cent) back a delay.
This article was posted: Friday, March 15, 2019 at 7:00 am
---
---
Print this page.
---
---
Infowars.com Videos: