Kurt Nimmo
Prison Planet.com
July 12, 2013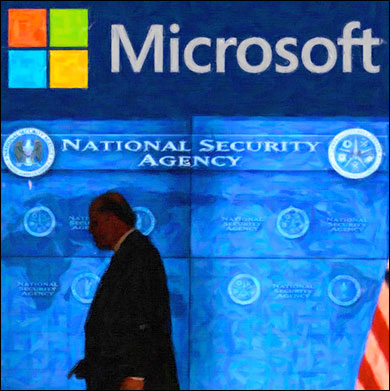 Software giant Microsoft worked closely with the National Security Agency in its effort to surveil the American public, according to The Guardian. The British newspaper cites documents provided by on-the-run whistleblower Edward Snowden.
In particular, the technology company permitted the NSA to skirt the encryption used on its Outlook.com email service. It also made it easier for the agency to surveil its cloud system, SkyDrive, and Skype video, a recent Microsoft acquisition. SkyDrive has approximately 250 million users worldwide.
Data captured by the NSA was routinely passed on to the FBI and the CIA, according to the report. "Prism is a team sport!" is how one NSA document described the relationship between intelligence agencies and corporations.
In April, Microsoft launched a public relations campaign claiming it protects customer data. "Your privacy is our priority" is the campaign's tagline.
Microsoft and other technology companies were quick to deny roles in NSA surveillance after Snowden made his revelations public beginning in June of this year.
"All the major tech firms are lobbying the government to allow them to disclose more fully the extent and nature of their co-operation with the NSA to meet their customers privacy concerns," Glenn Greenwald writes. "Privately, tech executives are at pains to distance themselves from claims of collaboration and teamwork given by the NSA documents, and insist the process is driven by legal compulsion."
Earlier today, we reported on Microsoft's intimate relationship with the NSA and the military-intelligence complex.
Greenwald's latest report underscores the fact transnational technology corporations are indispensable to the government's surveillance of the American people.
In short, when you use products produced by these corporations you are consenting to the act of being surveilled.
This article was posted: Friday, July 12, 2013 at 1:36 pm
Tags: constitution, domestic news
---
---
Print this page.
---
---
Infowars.com Videos:
Comment on this article