Julie Wilson
Infowars.com
August 2, 2013

Drew Johnson, a page editor for The Chattanooga Times Free Press has been fired after he published an article titled, "Take your jobs plan and shove it, Mr. President: Your policies have harmed Chattanooga enough."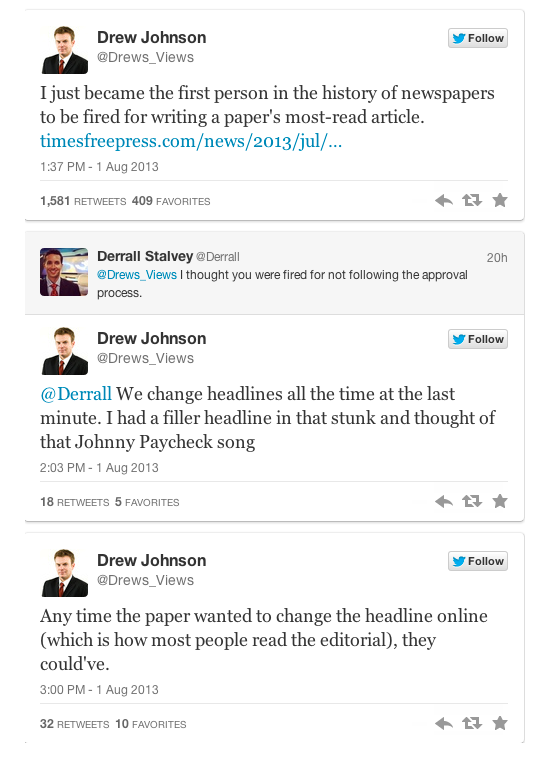 According to World Net Daily (WND), the firing came after the story went viral drawing national attention following a visit from the President earlier in the week.
Thursday, the Tennessee newspaper released a statement saying that they fired the editor for "placing a headline on an editorial outside of normal editing procedures."
However, Johnson says the policy he supposedly broke does not exist.
The newspapers' statement also said, "The headline was inappropriate for this newspaper. It was not the original headline approved for publication, and Johnson violated the normal editing process when he changed the headline."
Although the newspaper has previously written critical Obama headlines, Johnson says this time he feels confident that if the headline had referenced Bush instead of Obama he would still have his job.
WND's report says the newspaper has since changed the headline to read "President Obama's policies have harmed Chattanooga enough."
Obama visited the city this week to promote his newest strategy for creating jobs in America. In a speech given at the Amazon.com business center, Obama spoke with grandiloquence when he told attendees that he added "7.2 million new jobs over the last 40 months."
In response to Johnson's tweets after being fired, visitors to the paper's Facebook page had the following comments:
"Free Press means free to print as long as the Politburo approves it, right?" one person asked.
"You have FREE PRESS in your name but someone get's fired for their opinion. WOW," added another person.
"So … fired the guy who wrote his opinions against the president? That's cool. … Free Press? Right," opined another Facebook user.
Adding insult to injury, the editor was set to get married in just two weeks, but the editor "vows to continue defending liberty and free-market principles when he lands another job."
This article was posted: Friday, August 2, 2013 at 11:55 am
Tags: constitution, domestic news, government corruption
---
---
Print this page.
---
---
Infowars.com Videos: