Adan Salazar
PrisonPlanet.com
December 10, 2012
Bob Costas' recent anti-gun rant gave at least one high profile rocker Cat Scratch Fever.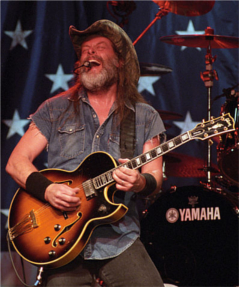 Photo By chascar (Flickr), via Wikimedia Commons
Last Thursday, classic rocker and Second Amendment preservationist Ted Nugent came out blasting NBC sports announcer Bob Costas following his recent anti-gun remarks during last week's Sunday Night Football game.
Nugent, ever the fervent gun rights advocate, expressed utter disgust at Costas' "blundering ignorance" of constitutionally protected rights in a piece titled "Bob Costas is Dead Wrong" published in the Washington Times last Thursday, saying, "If there were a free speech penalty for blundering ignorance, a penalty flag would have been tossed at Mr. Costas."
He begins with a sobering fact: "As you read this, know that by the time you finish, somewhere in America a fellow citizen will use a gun to stop a crime and save a life."
"Just as we shouldn't blame forks for obesity, pencils for spelling mistakes or water for drowning, trying to blame access to guns for the murder-suicide in Kansas City is chainsaw-juggling, woodchipper-diving bizzaro logic," says Nugent, echoing sentiments expressed by Alex Jones and Infowars.com that, by Costas' own skewed reasoning, blaming guns for Kansas City linebacker Jovan Belcher's and his girlfriend's deaths is like blaming spoons for obese people.
Costas also, Nugent argues, willfully ignores the countless times an NFL player's death was caused by something other than guns, demonstrating the gun-grabber's glaring hypocrisy:
"What Mr. Costas didn't say and possibly doesn't know is that 2 million Americans use guns each year to defend themselves from punks and thugs. Access to guns saves an incalculable number of lives each year. How about that, Mr. Costas?"

"Just a few years ago, a drunk NFL football player ran over a guy and killed him. As I recall, the player paid off the family of the deceased and only did 30 days in the slammer. Where was Mr. Costas on this? Did he opine that easy access to alcohol and automobiles was responsible for this death? To those liberals who want to restrict or ban access to guns, do you also support banning booze because drunks kill roughly 12,000 Americans each year in drinking-and-driving slaughters?"
Nugent concludes with a recommendation to "not trust any fuzzy-headed goofball" using "liberal fairyland pseudologic."
"We have more than enough gun laws in America. Another law or restriction would not have prevented the Kansas City Chief murderer from killing his girlfriend or himself. That's the ugly reality that Mr. Costas obviously refuses to embrace."
Costas has been facing fierce backlash after he cited an excerpt by Fox writer Jason Whitlock that blamed the tragic deaths on Belcher's possession of firearms during last week's Sunday Night Football, concluding that "If Jovan Belcher didn't possess a gun, he and Kassandra Perkins would both be alive today."
After a firestorm of criticism, Costas, rather than recall his statements, instead showed up on MSNBC's The Last Word with Chris O'Donnell defending his unmistakable attack on the Second Amendment, pointing out that "65 out of 80 Colts players admitted to owning guns" and that "Even if all those guns were obtained legally, you can't have 65 guys in their 20′s and 30′s, aggressive young men subject to impulses, without something bad happening."
Nugent recently found himself in a Secret Service "stranglehold" after he compared the Obama administration and Democrats to a coyote that's broken into your living room: "It's good people who bent over and let the enemy in. If the coyote's in your living room pissing on your couch, it's not the coyote's fault. It's your fault for not shooting him." Days later he was cleared of any wrongdoing.
****
In response to Bob Costas' unmistakable declaration of war on the Second Amendment, Infowars.com is launching a new contest looking for the best video taped open letter to Mr. Costas telling him why the Second Amendment, citizen gun rights, the Bill of Rights and the Constitution are essential to a free society.
The contest aims to call attention to the media's blatantly transparent efforts to control and shape public opinion in regards to firearms.
Additionally, everyone is encouraged to mail spoons with notes to Mr. Costas because, by his own logic, spoons are responsible for the rising obesity epidemic that has claimed the lives of millions of Americans.
Join Infowars.com in boycotting the NFL, NBC and Bob Costas unless they issue an apology and renounce their claims against the Second Amendment.
Send open letter videos to [email protected] for a $1,000 grand prize.
This article was posted: Monday, December 10, 2012 at 1:21 pm
Tags: constitution, domestic news, gun rights
---
---
Print this page.
---
---
Infowars.com Videos:
Comment on this article