Aaron Dykes
Prison Planet.com
Friday, October 29, 2010
SEE ALSO Paul Joseph Watson's article here on the most recent 'fake terror' alert, as it has been updated.
Efforts to warn the population that the Obama Administration, like the Bush Administration before it, has engaged in issuing fake terror alerts has gone viral, with the search term "fake terror" reaching #1 on Google Trends. It is yet another success in the Infowar, initiated on the Alex Jones Show.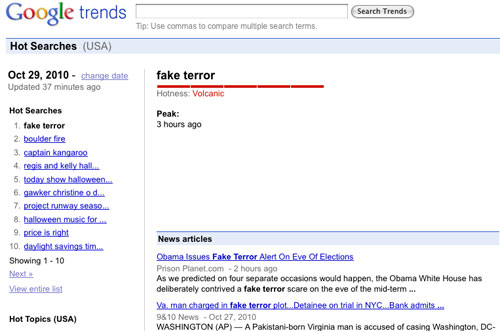 As we are just days out from the 2010 midterm elections, voters must realize that the establishment has willfully engaged in hyping up false alerts to scare the public into believing that we are under siege by potential terrorist acts at all moments. Various "officials" have been warning that an attack is likely to occur for weeks now, and it is no surprise to see the Obama Administration trying to use the fear to its advantage.
Recall that Obama advisor and former top Clinton official, Robert Shapiro, alluded to the idea that only a terror attack could save Obama's presidency earlier in the year.
"The bottom line here is that Americans don't believe in President Obama's leadership," said Shapiro, adding, "He has to find some way between now and November of demonstrating that he is a leader who can command confidence and, short of a 9/11 event or an Oklahoma City bombing, I can't think of how he could do that."
Read the original story by Paul Joseph Watson here, as it has been updated.
The general scare of the fake terror alert is all the more alarming, as President Obama has gone on to contradict announcements from his own administration, claiming that the suspicious package "did apparently contain explosive material" in a press conference. This, after it was already admitted the suspicious package, which originated from the UK, was harmless and contained no explosives.
Know what's important: Having a Healthy Food Supply like eFoodsDirect is Essential (AD)
Thanks to readers, listeners and supporters for helping to get out this vital information.
This article was posted: Friday, October 29, 2010 at 3:50 pm
---
---
Print this page.
---
---
Infowars.com Videos:
Comment on this article