Kurt Nimmo
Infowars.com
June 7, 2010
Mississippi's governor Haley Barbour is not about to let oil washing up on the state's beaches ruin the tourism industry. "The truth is we have had virtually no oil," Barbour told Fox News Sunday. "We've had a few tar balls but we have a few every year" because of natural seepage in the Gulf of Mexico.
It's all the fault of the damn media, Barbour insists. "The biggest negative impact for us has been the news coverage," he grumbled.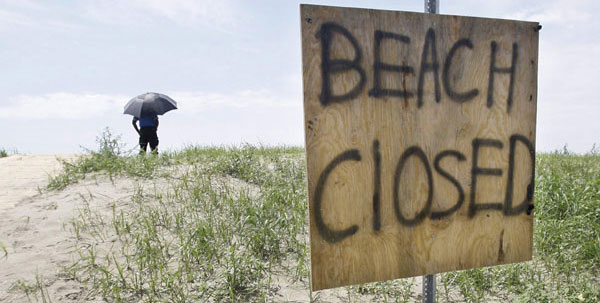 A sign warning beach-goers on Petit Bois Island, Mississippi.
On June 1, however, the media reported that oil from the BP gusher had indeed washed up on Mississippi's beaches. "Oil from the BP Gulf of Mexico gusher hit beaches in Alabama and Mississippi for the first time Tuesday. It's definitely not the kind of news the states wanted to deliver with the start of the summer beach season newly underway," NPR reported last week.
Or rather it is not the sort of news Barbour wants to accept even though he admitted last week Petit Bois Island, a barrier island near the Mississippi-Alabama border, had been hit by the oil. Barbour has compared the slick to the thin sheen of oil commonly found around ski boats. 
Meanwhile, also on Sunday, the Intel Hub website reported rumors of a federal troop deployment in Louisiana. 
Shepard Ambellas, who reported on a mass grave site at the U.S. Department of Veterans Affairs Cemetery in Phoenix, Arizona, in 2009, reports possible "battle hardened troops" or National Guard outfitted in full battle gear and body armor have been seen moving into Grand Isle, Louisiana. 
Ambellas writes: 
As of 12:00 PM CST, possible battle hardened troops or National Guard, in full battle gear and body armor with have been seen moving into the area. Fully armored HUMVEES with 50 Cal active gun turrets are reportedly arriving on scene as well. All troops and vehicles are in woodland patterns. 

Black trucks with red letters displaying "Disaster Relief Team" have also arrived. FEMA contractors and mobile facilities are present. The Crisis Management Corp. is reportedly present as well. 

Our reporters see no visible sign that the troops are National Guard at this time. They reported the troops looked "battle hardened". 
Ambellas and the Intel Hub believe the deployment is the "first step in a massive coastal evacuation that could potentially disperse 40-50 million people." Rumors concerning a massive evacuation have persisted since the beginning of the oil leak in late April.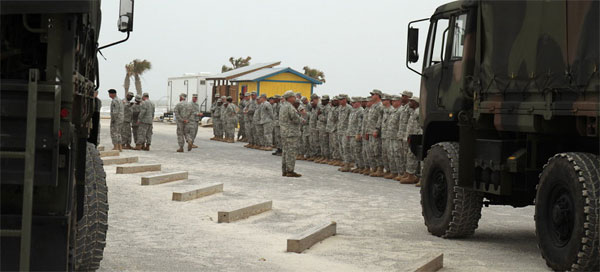 U.S. Army National Guard B Company 711 receiving instructions for putting Hesco containers along the beaches of Dauphin Island, Alabama, Sunday, May 2, 2010. 
Maryann Tobin, writing for the the Albuquerque Examiner on May 9, stated FEMA "and other government agencies" have prepared to evacuate the Tampa Bay area ahead of a "controlled burn of surface oil in the Gulf of Mexico." Tobin did not cite sources. 
On May 4, up to 17,500 U.S. Army National Guard troops were mobilized by the Pentagon "to help various states with the oil spill," according to the Associated Press. "Defense Secretary Robert Gates has granted requests to send troops of up to 6,000 by Louisiana, 3,000 by Alabama, 2,500 by Florida and 6,000 by Mississippi." 
It is interesting to note the large number of troops deployed to Mississippi. As noted above, Mississippi's governor Haley Barbour states oil is not a problem in the state.
This article was posted: Monday, June 7, 2010 at 1:36 pm
---
---
Print this page.
---
---
Infowars.com Videos:
Comment on this article