New campaign ad destroys Gingrich just as he wishes to destroy the US Constitution
Steve Watson
Prisonplanet.com
December 13, 2011
Ron Paul has once again hit full throttle and gone on the attack against Newt Gingrich, releasing yet another new ad spot that raises a number of facts Gingrich would prefer the voting public to forget about.
Entitled 'Selling Access', the clip is another two-minute web piece highlighting Gingrich's status as a Washington establishment insider who used his position to reap millions for himself.
"He is the absolute symbol of that corrupt system," a voice over taken from previous news analysis states in the ad. "This guy hasn't got skeletons in his closets, he's got a whole graveyard in there," says another.
Gingrich is heard bragging about earning $60,000 per speech after leaving office and referring to himself as an 'insider'.
"These are all legitimate and important issues to point out to the American people," said Ron Paul 2012 National Campaign Chairman Jesse Benton.
"If Americans are serious about changing the status quo in Washington, then they must take into account the record of someone who profited from the housing collapse with taxpayers' money, advocated for Obamacare-style individual mandates, and who played the Washington game of getting rich due to influence as well as anyone."
Watch the ad below:
The video is the second Ron Paul ad to focus solely on Gingrich within the last fortnight as he emerged as a front runner in Iowa and New Hampshire.
A previous viral web ad, 'Serial Hypocrisy', criticized Gingrich for many of the same issues:
The Paul campaign's effort to expose Gingrich as an unelectable candidate has not ended there. In a post on Ron Paul's official 2012 campaign website, Jack Hunter writes "Newt Gingrich wants the Constitution to die."
"This is not hyperbole and I'm not kidding." Hunter writes as he points out that in the mid nineties Gingrich penned a foreword to a book called Creating a New Civilization: The Politics of the Third Wave by authors Alvin and Heidi Toffler.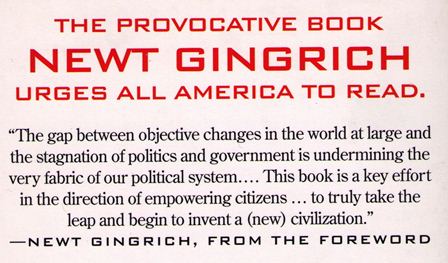 Within the pages of the book the Tofflers make extreme statements, including that they would like to see Jeffersonian democracy die and be replaced:

"Is this "the system" the Tofflers and apparently Gingrich want to "die and be replaced?"" Hunter writes, "Do they want to essentially murder the very basis of American government, law and civilization?"
"Even Mitt Romney at least pretends to support the Constitution. Good Lord, Newt."
Meanwhile, controversial radio host Michael Savage has offered to give Gingrich $1 million dollars to drop out of the race for the GOP nomination, "for the sake of the nation."
"Newt Gingrich is unelectable," Savage wrote on his website.
"If Newt Gingrich really loves this country as much as he says he does, if he really wants what is best for America, he will set his ego aside, call me, and accept my offer. His continued candidacy spells nothing but ruin for conservatives, Republicans, and all true American patriots, One million dollars in exchange for preserving the nation, Newt. I say take the money … and don't run."
——————————————————————
Steve Watson is the London based writer and editor for Alex Jones' Infowars.net, and Prisonplanet.com. He has a Masters Degree in International Relations from the School of Politics at The University of Nottingham in England.
This article was posted: Tuesday, December 13, 2011 at 10:43 am
---
---
Print this page.
---
---
Infowars.com Videos:
Comment on this article