My Budget 360
Wednesday, September 29, 2010
The middle class is being slowly dismantled piece by piece.  New Census data released this week highlights a continuing trend that is pushing more average Americans into a perpetual struggle to stay financially afloat.  New data shows that the median household income is $50,221 in 2009 which is down from $52,029 in 2008.  This drop of 3.6 percent comes at a time when many U.S. households are struggling to make payments on mortgages and more importantly, find jobs.  The only group that grew their household income was for those making $180,000 or more (top 5 percent).  This growing inequality gap demonstrates that this recession is actually widening the chasm between the working and upper-classes of our society.  I went ahead and took the data from the new Census report and created the following income distribution chart: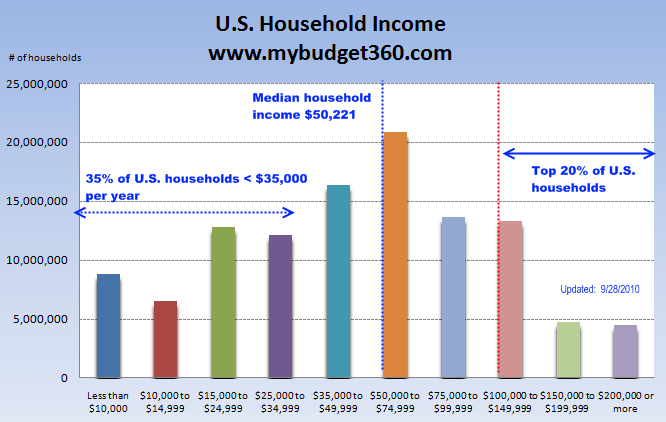 35% of U.S. households live on $35,000 or less.  The hope of making it into the middle class for this group is getting tougher and more financially challenging.  Those making more than $100,000 fall under the top 20 percent category.  But the real income disparity shows up clearly once you go over the $200,000 range.  The top 20 percent of Americans made close to 50 percent of all income while those below the poverty line made up 3.4 percent.  This ratio of 14.5 to 1 is the highest on record keeping history.  In 2008 the ratio was at 13.6 and back in 1968 it was 7.69: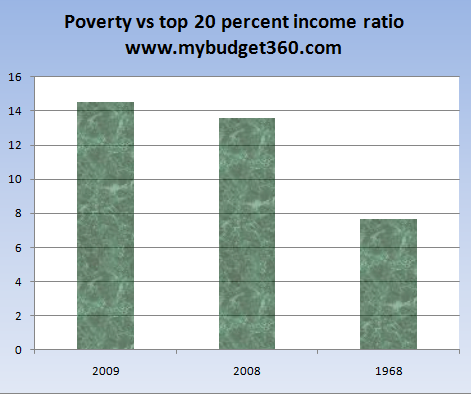 Source:  Census
"(AP) A different measure, the international Gini index, found U.S. income inequality at its highest level since the Census Bureau began tracking household income in 1967. The U.S. also has the greatest disparity among Western industrialized nations.

At the top, the wealthiest 5 percent of Americans, who earn more than $180,000, added slightly to their annual incomes last year, census data show. Families at the $50,000 median level slipped lower.

"Income inequality is rising, and if we took into account tax data, it would be even more," said Timothy Smeeding, a University of Wisconsin-Madison professor who specializes in poverty. "More than other countries, we have a very unequal income distribution where compensation goes to the top in a winner-takes-all economy."
How is it possible that during a time when the vast majority of Americans are moving backwards financially, only a small segment actually progressed forward?  It would be one thing if the real economy were improving but it is not.  What is happening is the bailout funds have worked but for a very tiny portion of the population.  Most people depend on a job to pay for bills and manage their daily budgets, not stock market wealth.  The bigger problem is you have insufficient risk management systems built into the current financial system.  As we saw with the AIG bailout, it was merely a way to rectify the bad bets of Goldman Sachs.  How did this improve the real economy?  It didn't.  How did handing out money to the investment banks provide added jobs?  They have no statistics to show for the trillions of dollars handed out to Wall Street in terms of helping out Main Street.  What we do have is 43 million Americans in poverty and the middle class shrinking.
So what can be done?  The answer is obvious but the politics will make this a battle for the middle class in America.  It can be argued that the following decade will be a struggle for the survival of the middle class.  We need to split commercial and investment banking.  This must be done or another crisis is only a matter of months or a few short years away.  There is no reason to commingle run of the mill banking like mortgages, checking, savings, and credit cards with derivatives, asset backed securities, hedge funds, and other high risk items.  We need to treat banking like a utility.  There is no doubt that we need capital in the system to function.  Yet right now the banks operate like loan sharks on the working and middle class while they use the taxpayers as piggybanks for their own generous bailouts.  This has been going on for years now and the growing inequality is showing that the bailouts have worked.  They just haven't worked for the middle class.
This article was posted: Wednesday, September 29, 2010 at 8:40 am
---
---
Print this page.
---
---
Infowars.com Videos:
Comment on this article