Americans no longer fault "easy access" to guns as number one reason for gun violence
Julie Wilson
Infowars.com
September 20, 2013
Americans are finally waking up to the fact that gun control does not curb gun violence. A recent Gallup poll conducted on Sept.17 and 18, just days after the shooting at the DC Navy Yard, reveals Americans think "easy access" to guns has less to do with mass shootings than they did in 2011.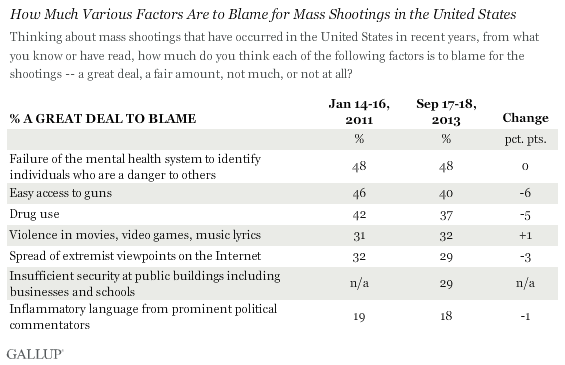 The new poll, as reported in the Washington Times, shows 48 percent of Americans now blame failures in the mental health system for gun violence.
After the 2011 shooting in Tucson, Ariz., in which six were killed and several wounded including then Rep. Gabrielle Giffords, a poll was conducted to measure the public's response. Then, 46 percent blamed "easy access" to guns as the root cause, compared with just 40 percent today.
It looks like Americans may finally be basing their opinions on gun violence around real statistics. In May, the LA Times released an article exposing statistics that show gun crime has plunged dramatically since the early 1990s. The statistics, released by the Pew Research Center, show "in less than two decades gun murder rates [have] been cut nearly in half."
"The number of gun killings dropped 39% between 1993 and 2011, the Bureau of Justice Statistics reported in a separate report released Tuesday," said the LA Times.
The recent Gallup Poll shows 20 percent believe "easy access" to guns has nothing to do with mass shootings.
It appears that the anti-gun propaganda promoted by government and corporate media has begun to wear off since the Sandy Hook shooting last December. Since the shooting, fewer Americans think that "stricter gun sale laws" are necessary.
This article was posted: Friday, September 20, 2013 at 1:55 pm
Tags: constitution, government corruption, gun rights
---
---
Print this page.
---
---
Infowars.com Videos: