UK Daily Mail
March 19, 2011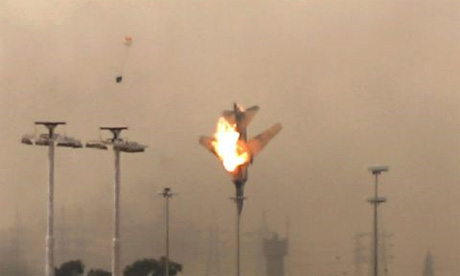 Colonel Gaddafi's proclaimed ceasefire was in tatters this morning after a fighter jet was shot down in flames by rebels over Benghazi.

Video footage showed the jet, believed to be a MIG, circling over the city before flames burst from its engine and it hurtled to the ground.

The shooting came as heavy shelling was heard on the outskirts of the rebel-held city in eastern Libya, with loyalist forces believed to be defying the UN resolution and ceasefire.
Rebel leaders said Gaddafi's forces had entered the city as they hastily put up concrete barricades to defend their headquarters.

Reports of skirmishes between loyalist forces and rebels have emerged, with claims that fighter jets have bombed the road to the airport.
A d v e r t i s e m e n t
Stock up with Fresh Food that lasts with eFoodsDirect (AD)
This article was posted: Saturday, March 19, 2011 at 4:50 am
---
---
Print this page.
---
---
Infowars.com Videos:
Comment on this article