Kurt Nimmo
Infowars.com
June 5, 2011
Editor's note: After the report below was filed, the Park Police in DC sent in a SWAT team. "As the monument was cleared of participants and press alike, several people remained, dancing gleefully in front of SWAT team members who had arrived," reports The Daily Caller.
In addition to the SWAT team, the cops erected a fence around the monument. A report from the Tenth Amendment Center:
"At 12:17 p.m., police, some wearing hard helmets, formed a line and began moving most of the protestors out of the inner chamber. But numerous people remained inside, continuing their silent dance. Others filtered back in, and the rotunda quickly filled again.
Police announced the memorial was closed and put up fences, leaving just one route of exit. Officers would not answer questions as to why the fences were erected. At 12:30 p.m., police were aggressively pushing people out of the monument, but refrained from using excessive force."
According to the Associated Press, "dozens" of people showed up at the Jefferson Memorial yesterday to protest the thuggish behavior of cops in response to an earlier attempt to protest a federal court ruling prohibiting freedom of expression at the monument.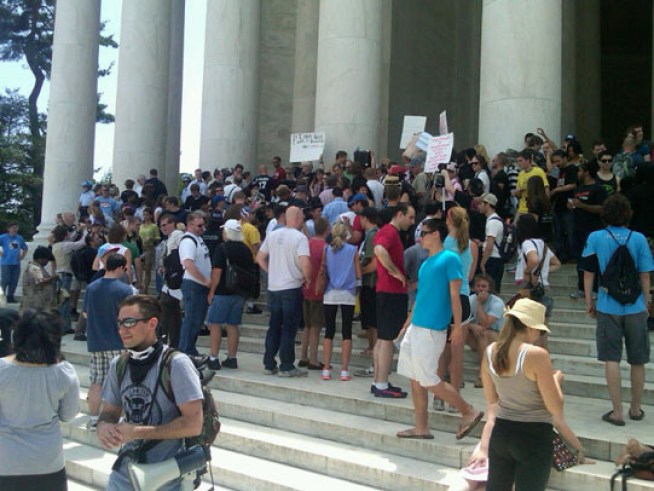 A photo posted on the NBC website, however, shows far more than a few dozen (see above photo).
A d v e r t i s e m e n t
Park Police kept a low profile after they came under withering criticism for the heavy-handed way they responded to the dancing protesters last Saturday. At today's event, an officer stood watch carrying an assault rifle.
"We were physically assaulted by some men in some blue costumes and put in a cage for a couple hours," Adam Kokesh, an Iraq war vet and Russia Today host told the Baltimore Sun on Wednesday. "We are not going to stand for this."
"This about standing up to a police state that is out of control and no one is safe from," said Kokesh from the steps of the Jefferson Memorial.
Fox Business Network host Judge Andrew Napolitano described the arrests as "a scene out of 'Footloose meets the Gestapo.'"
U.S. Park Police are investigating whether officers were too aggressive. Videos posted online show an officer with his hands around the throat of Kokesh, who did not resist arrest.

This article was posted: Sunday, June 5, 2011 at 3:18 am
---
---
Print this page.
---
---
Infowars.com Videos:
Comment on this article